Hello everyone,
Let's start with the big news coming up this week first.
This weekend is the Du Toitskloof weekend and it is going to be BUSY!

Friday 29th November:
• The JDI Golf Day is happening with dinner and prizegiving upstairs.
• Du Toitskloof 6th Hole shootout on the 6th Tee at 17h30.
• R10K Draw downstairs, immediately after the shootout. (This may be a little later than the usual 18h30 draw).
Please Note: Tables on a first come, first served basis.
• Nite golf pizzas for all entrants of Nite Golf downstairs from 18h30. Anyone attending the R10K draw is also welcome to order pizzas.
• Nite Golf will start about 20h00.
• NB: A few "banting"members will also be having a bring and braai alongside the halfway house. The club will supply the braai, but please ensure that you bring your own charcoal, firelighters, tongs, utensils, plates and meat/sides, as the kitchen and club staff will be fully committed with the golf day, shootout and pizzas. Please chat to Ron Clark or Trevor Norris-Jones for further details.
• Prizegiving for Nite Golf will be after completion of the golf. A best guess would be 22h15.
• I am playing music all evening, so feel free to join us for the draw, pizzas and some great tunes, even if you don't play Nite Golf. The more, the merrier!
NB! Still a few spots open for Nite Golf and a few 4-Balls for Hamper Day. Book here with Carmen now if you would like to join us.
Saturday 30th November:
AM
• 4-Ball Stableford Alliance (2 scores to count), sponsored by Mazars and Du Toitskloof Wines
PM
• 4-Ball Stableford Alliance (2 scores to count), sponsored by Du Toitskloof wines
Sunday 1st December:
• Hamper Day & Open Mixed. Sponsored by Du Toitskloof wines
• Prizegiving and supper downstairs
It was a bash!
The Big Bash was held on Saturday evening and what a party it was! The band Me & Mr. Green were everything they were billed to be – brilliant! The cocktails Nick and his team created were perfect for the theme and the Havanna Nights food was delicious! Everyone really let their hair down and had a ball!

The Festival Raffle winners were as follows:
• Sun City trip – Morag Magnussen
• Cape St. Francis trip – Adrian Naude
• 3-Ball with Jacques Kallis at Westlake – Pat Dreyer
• Taylormade M6 Driver – Nick Gordon
• 4-Ball at Pearl Valley with carts – Dave Lyall
• 4-Ball at Steenberg with carts – Andre Niewoudt
• Booze hamper – Brendan Mackay Leslie
Swinging into the festive season
The ladies in the office are busy with the Festival recon and we will add everything from Nite Golf on Friday and give everyone a good idea of Festival profit for the year next week. Thanks again to everyone who supported this year's Festival events. It has been a big success!
Our Ladies Silver League brought home the winning trophy!
The Westlake Ladies Silver 1 league team brought home the trophy yesterday, winning the Western Province Silver Division League. They beat Royal Cape in a nail-biting singles matchplay final, winning by 4 matches to 2. Well done ladies – a wonderful result!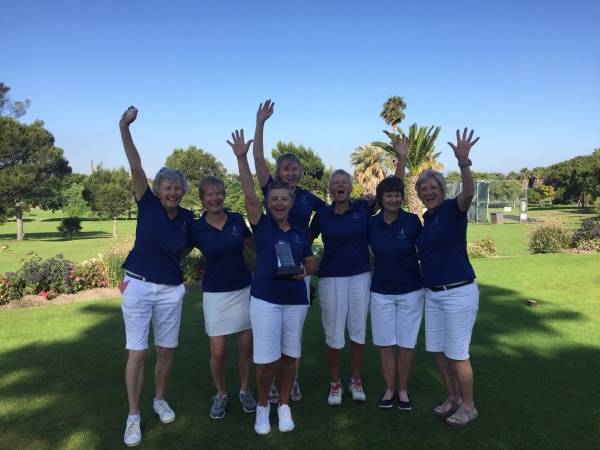 Silver League winners
Who took home the Enid Metcalf Silver Plate?
Four Westlake ladies, Jane Wollaston, Gail Thane, Jill Baxter and Adi Campbell competed in the Daysh Cup Team Competition last Saturday at Hermanus. The format is 36 holes, Betterball in the morning and Greensomes in the afternoon. Jane and Gail won the Enid Metcalf Silver Plate for the best all day score for a couple – well done ladies!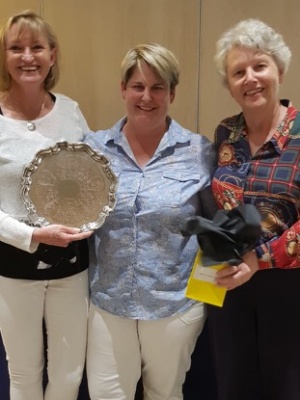 Jane and Gail with the Enid Metcalf Silver Plate
Wrappitt Cup Final
7th December
A reminder that the Wrappitt Cup Final is on the 7th December, the same date as the Monthly Medal. Good luck to the finalists.
Wags Christmas Scramble
10th December
The Wags Christmas Scramble is on the 10th December, so gents, please diarise. It is BIG fun with a delicious meal to follow.
That's all for this week. I hope to see everyone at the club this weekend. Friday evening is a must.
Dave & the talented Westlake Team