Hello everyone,
By now I hope you have all managed to get a game and enjoyed our beautiful golf course and the incredible surroundings. It has been a very busy week with all sorts of new challenges for the team, as we find our way in this strange new reality.
As has become the norm, I will provide you all with as much information as possible, set out under simple headings, making it easy to see and refer to.
Halfway House
Today marks the first week of our grab-'n-go halfway house being open. Nick, Chef Deon and their team of eager, hard-working "can-do" helpers have worked wonders, expanding their menu as they go. The feedback has been phenomenal, with many members and guests enthusing over the fresh, tasty offerings. Deon continues to experiment as he strives to discovery what you enjoy, so feel free to pop over and have a chat, (while practising social distancing of course). Crazy how quickly we have adapted!
Easier booze orders
Nick and his bar team have not been idle. They have refined the method of buying your alcoholic refreshments for home consumption. Instead of queues at the local bottle store or even having to mail us and do an EFT, you can now enjoy a coffee on the forecourt and enjoy the fresh air and stunning views of the course, while our friendly staff assist you with your order. Pay with your member card or credit card and pick up your refreshments immediately.
Simple, easy and convenient and you are supporting this great club. Your support literally means we can re-employ our bar staff quicker.
Thanks from our Captain
Our Captain Martin Peter would like to express his sincere gratitude for the overwhelmingly positive response, following his letter last week. We received dozens of responses and every one, with the exception of one member was supportive and complimentary. Westlake is in good hands and we are all looking forward to working together with everyone in the months ahead.
Wearing of masks on the course
We were all very relieved to hear that the wearing of masks has been eased somewhat while on the golf course. Please see the poster from GolfRSA here. I do appeal to everyone to still use common sense and wear your mask when in close proximity to others and follow the guidelines. Enjoy the relaxation!
No shows and cancellations
A further appeal to everyone to please honour your booking or let us know timeously if you cannot play. We have had instances where 4 balls are booked and one of the players just doesn't arrive for his game. Please note that we could fill that slot with a member on the waiting list, or if no member wants it, sell it to a paying visitor. Please inform the club at least 24 hours before your game if you are unable to play. Obviously if we have heavy rain and you need to call the club at the last minute to cancel, that is understandable, but in good weather, please give us fair warning.
Westlake painting
Andrew Cooper, a world renowned investment artist famous for his landscapes, started a painting of Westlake during the 1st Ladies SA Open where he had it up for a prize for a hole-in-one on the 15th. Nobody won it. He has recently had the time to complete it.
He has offered it to the members for a much lower price than he would normally charge. The art piece is 1300mm x 750mm and is acrylic on canvas. Feel free to contact me if this interests you.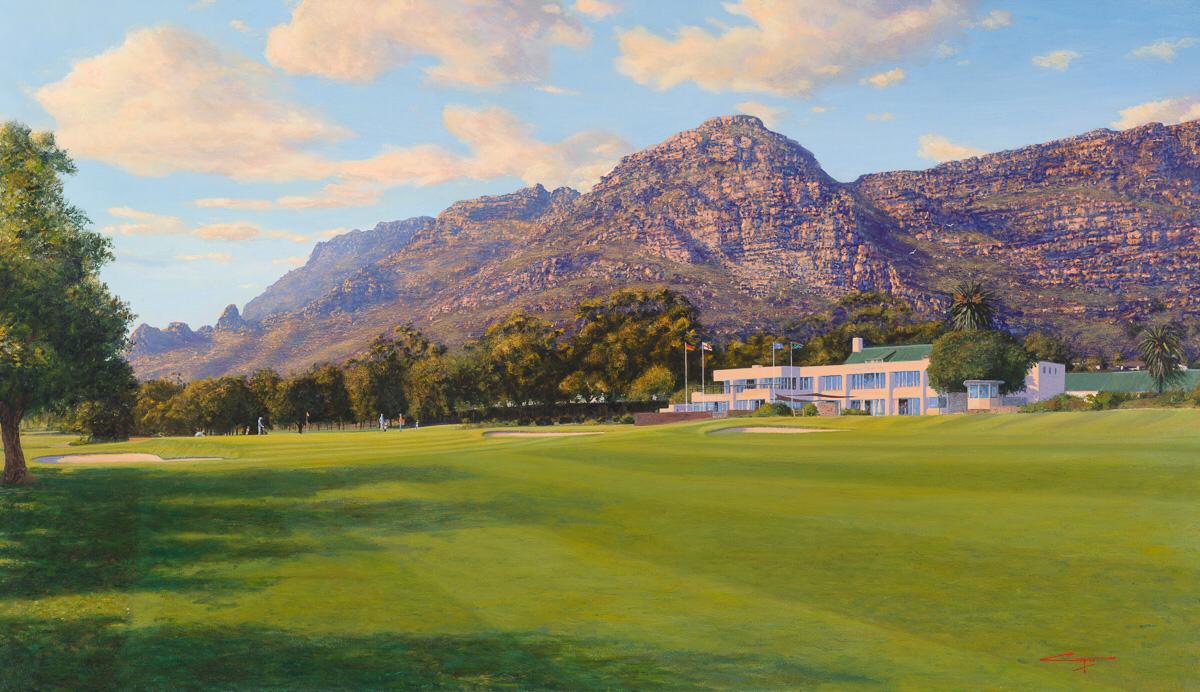 100 Club vouchers
We have some unclaimed 100 Club vouchers in the office. The following people have vouchers available so please pick them up or let Emelia know if she can load the funds onto your spending account:
· Jim Brayson
· Mark Newling x 2
· Keith Joseph
· Leanne Patton
· Jimmy Higgins
· Ann Norman
· Gerald Tait
· Tim Watkins-Baker
· Trevor Norris-Jones
· Rob Brookes
· Lee Balding
· Mike Nevin
Top-ups on membership card
Just a reminder that we have discontinued EFT top ups, due to the onerous admin involved. There are two top-up options available:
• Top up in the Pro Shop using your Credit/Debit card as normal.
• Top up using teesheet.co.za. This is the preferred method of payment. Simply follow the following easy steps: Click here.
Office out of bounds
I must appeal to all members to please refrain from just walking into the office to visit us for any reason. It is not that we don't want to see you, but we have a couple of staff members who are high risk candidates for Covid-19 and MUST keep the working environment sanitised and safe for our people. Please report to reception and ask if you can see the person you wish to speak to. Thanks for your understanding with this.
Caddies
Caddies are available to work as spotters and assist with raking bunkers and reading lines on the greens. The suggested rate is R200 per 4-Ball. That can be each player paying R50, or if a player wants to take his usual caddie and pay him the R200 for the service, that is fine too. We can't force anyone to take a caddie, but by doing so, you are helping to feed a family. If you would like a caddie, please phone the club during office hours or e-mail bookings@westlakegolfclub.co.za or membership@westlakegolfclub.co.za. This service is available immediately.
There is quite a bit of rain forecast in the next few days. Let's hope it doesn't affect golf too badly.
Have a good week and stay safe,
David & the team