Hello everyone, and welcome to December!
Similar to myself, I am sure you are wondering where the year has gone? Festival is over for 2019, as it ended with Nite Golf on Friday, and it was a lot of fun. The entire weekend was a blast, with the Du ToitsKloof Weekend taking centre stage, along with Hamper Day/Open Mixed on Sunday.
Congratulations to Dudley Rozier who won the 6th Hole Shootout, for the second year running. The closest lady was Julie Dyer. Hamper Day was great fun, with prizes for the first 10 places, as well as 8 nearest to the pins for all 4 short holes – this was applicable to both ladies and gents. Needless to say, the top placings received substantial amounts of meat and wine. A big thank you to Courier IT and Du Toitskloof Wines for their continued and highly-valued sponsorship. A word of congratulations to Lyn Cochrane who had a hole-in-one on Sunday too.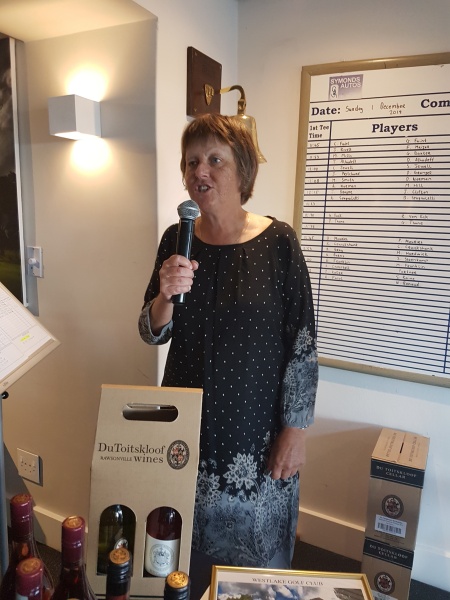 Lyn Cochrane
I was fortunate enough to attend the Western Province Annual Awards Dinner on Monday evening. Westlake was presented with the 2019 Rules Quiz Winners Shield. More importantly, our Ladies League side were honoured for their outstanding win this year. This was a very proud moment.
The Westlake Ladies held their Annual Trophy Awards on Tuesday afternoon. The trophies were awarded for various categories, and the results came from all the Medal rounds which were played during the year. 10 trophies were handed out, which included the Best Putting, Highest Number of Birdies, Best Eclectic Scores, Best Nett, League Player of the Year, Rookie League Player of the Year, Medal Winners Final, as well as a congratulations to the winners of various Matchplay Competitions, which were held during the year.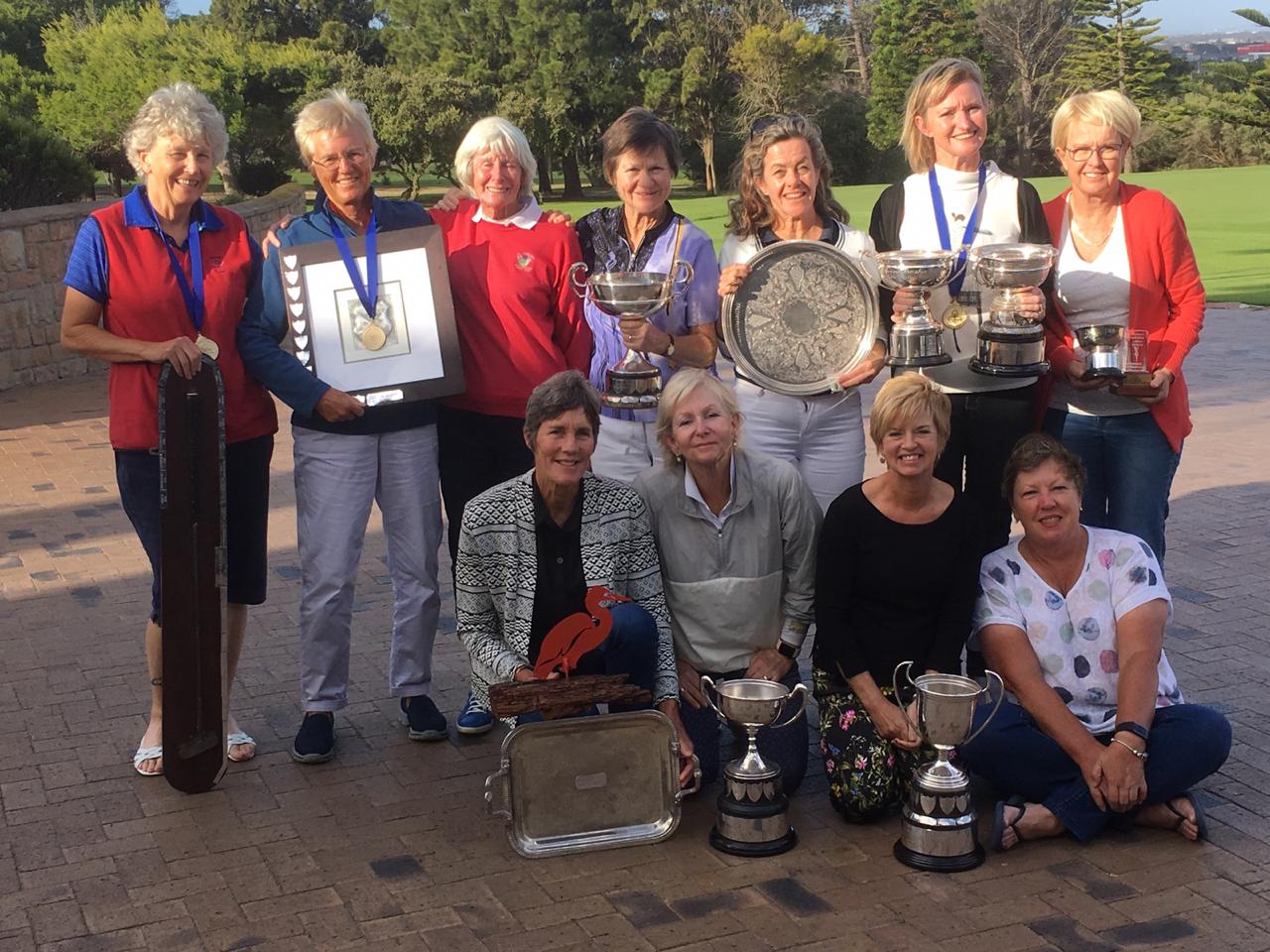 The trophy winners for 2019 – well done ladies!
Just a reminder to always check your slips when you purchase anything, using your member account. We occasionally receive queries which take quite some time to resolve. Such matters can easily be resolved when they are presented to us within a certain period of time. Please check that what you have ordered is in fact on your slip so that we can correct any mistakes as soon as possible.
We are currently putting the final touches to the 2020 diaries, and will let you know as soon as they have arrived from the printers. If your contact numbers have changed in the last year, please e-mail me your updated information before 10:00 am on Friday, as this information needs to be sent to the printers.
Next Tuesday will be the Wags Christmas Scramble, and it is fully subscribed. I had the pleasure of playing with the Wags on Tuesday, and I had a lot of fun (as I always do when playing with this great group of gentlemen). Please remember that if you are 55 and older, you are welcome to join them. Pop down at 06:45 on a Tuesday morning to enjoy a game where the emphasis is placed on fellowship and fun.
Also happening next Tuesday, is our Ladies Christmas Party, which is always a ball! Chat to Ursula, or any of the Ladies Committee Members if you would like more information.
If the kids are bored at home, you can keep them busy by introducing them to a life time sport this holiday. If they need lessons, contact Alec so that he can sort them out with lessons, as well as an introduction to the game.
For the young at heart (all us grown-ups), who would like to start playing golf, but feel intimidated or that they are not good enough to play with the "real" golfers, we have a special group for you too. This group is called the Early Birdies, and they play every Thursday morning. This is open to ladies and gentlemen. Everyone is welcome join. This is a brilliant initiative with no pressure, only fun and a guided introduction to golf. For more information, contact one of our Ladies Committee members, or the office.
There is not much else to report on for this week, as we approach the Festive Season.
Have a wonderful week!
David and this amazing team I am lucky enough to work with!