Hello everyone!
Spring is here and the "fever" that surrounds this happy occasion is definitely catching on.

The process of renewal that this season brings is very evident at Westlake too. Our Pro Shop is in the process of being completely revamped. The short-term consequence of this is that our temporary Pro Shop is at Reception in the club house, so please report there when checking in for your game.
On the golf course side, from next week we will be starting with our annual Spring Treatment. This will include the hollow tining and scarifying of all of the Tee boxes, Fairways and Green surrounds. Once this has been completed we will also be fertilizing these areas to promote good recovery.

While we are all in a great mood, some more good news is that everyone has until this coming Monday 9th September to pay their Pre-Paid portion of subs. Please use your name as the reference when paying by EFT.

When booking a game…
Please note that the SMS confirmations for your golf game will be discontinued, but they will be replaced by an additional email confirming your booking and including all the pertinent details, including the tee off time, date and players in your 4Ball. The cost saving of this measure is significant.
Thanks for your understanding.
Are you rooting for our Super Seniors!
This weekend sees all 3 men's League sides in action. Super seniors take on King David Mowbray, First Challenge play Bellville and 2nd Challenge play Kuils River. Good luck gentlemen. Do us proud!
Hollowtining Cup 2019
On Tuesday the Westlake ladies hosted the Clovelly ladies, competing for the Hollowtining Cup, with Clovelly being closed for hollowtining. The competition was a Fourball Alliance.
Pictured below, with the Clovelly Lady Captain, Jacky White, are the winners, with a score of 87 points, from the left: Lavinia Rend (Clovelly), Brigitte Parker (Westlake), Margaret Grovener (Clovelly) and Sonja Sleep (Westlake).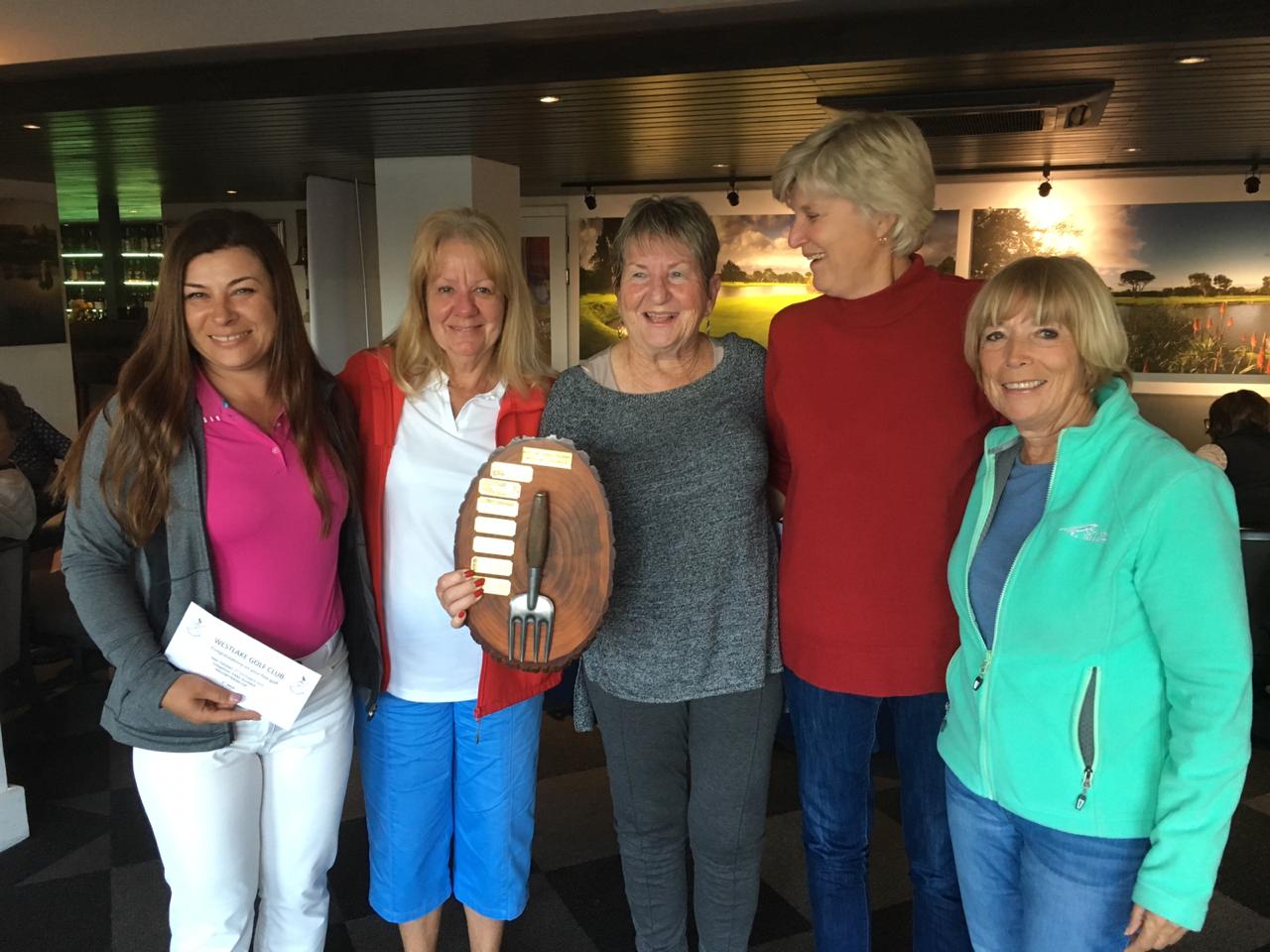 World, watch out for Westlake!
The Western Province Mid-Amateur Open Championships were held at Steenberg this past weekend, and played over 36 holes. As usual our Westlake guys did well, with Weyers Janse van Rensburg the pick of the bunch, finishing 5th on 149. Elton James and Mark Coram were four back on 153 in a tie for 13th.
Well done to all the Westlake players for getting out there and holding our name high.
Members, please take note
We have noticed an unfortunate trend recently at the club with both our towels and sandbags disappearing at an alarming rate. The towels dropped from 76 to 40 in 1 week. Please check in your lockers and at home and if by any chance you have any, just drop them in the basket in the locker room.
The navy sandbags used for the divot repair project are down to below 10 from the 100 we had made for this purpose. This project will now be stopped, so please ensure you repair all divots, rake bunkers and fix pitch marks. We will also do this from our side. Let's keep our beautiful golf course pristine this summer.
Have you entered for any events?
Please note that if you have booked for Festival events, You will be sent invoices for this shortly. Please strive to pay for these by the end of September. This will show us how many spots are still available on specific days (if any) and we can then work towards filling them. Thanks for the co-operation with this.
Are you feeling lucky?
The next R10K Draw is on the 20th September and features more live music, this time a 2-piece band. There will be great food and like the past 2 R10K draws, a thoroughly enjoyable evening out!
There will be build your own Gourmet Burger and fresh chips on sale. Go crazy and build something special! R100 per head for members and R120 per head for guests.
Book tables with Peter or Lindsay and make sure you bring family and friends along. Let's show everyone what a festive place this is. Learn more here.