Hello everyone
Despite the occasional rain and cooler weather, the club is just getting busier by the week, indicating the rapidly approaching peak season.
There is a lot of information this week and some great pics too, so enjoy this edition of our newsletter.
Our ladies are the stars of the week
Last week I mentioned the Ladies Classic and what a great day last Tuesday was. Thanks to Brendan, we have some more great pics including our winners: Glynis bell, Tracey Hon, Ingrid van Gyk and Pearl Mbeje.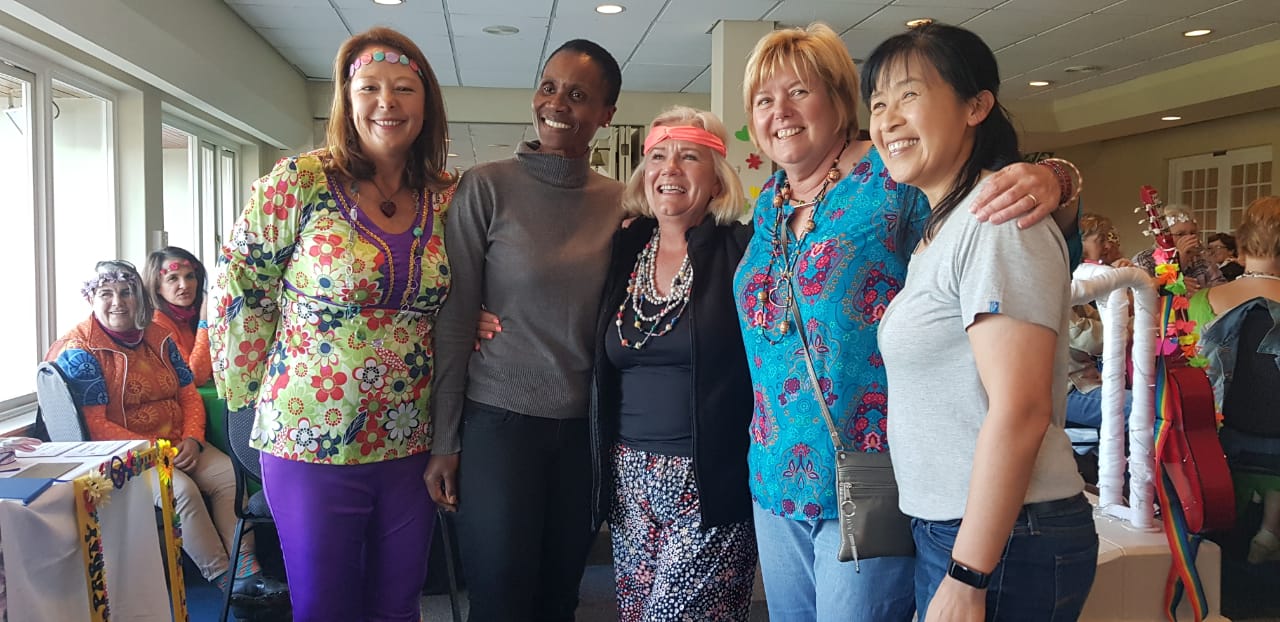 Winning team

Well done ladies!
Congratulations to Tessa Granger!
While on the subject of our ladies, the Tuesday Ladies competed in the Monthly Medal Competition this week and also for the Ashley Cooper Trophy for the best nett score.
The winner of the trophy was Tessa Granger, pictured below with Kyle Pengelly of Pengelly Motors, the sponsors of the Monthly Medal.
League news
The Ladies play their final League fixtures on Tuesday 15 October. Westlake are hosting Silver Division Section 2:
12 noon – Atlantic Beach v Westlake 2
12.21 – KD Mowbray v Erinvale

The format will be Fourball Betterball Matchplay. Good luck ladies.
No men's League this weekend but the Foster Cup semifinals are on Saturday. Good luck gentlemen.

The Dog Tag Hackers showing off their Tour shirt
The Dog Tag Hackers from Westlake recently enjoyed a weekend away at Langebaan Country Estate and wore their new official golf shirt for the tour.
Remember our Pro Shop is available to assist with any orders for Golf Societies, Corporate or Individual orders or golfing requirements. Contact them via email at

proshop@westlakegolfclub.co.za

.
Are you feeling lucky?
A reminder that our R10K draw this month falls on the 25th October. This coincides with the Du ToitsKloof Weekend and night golf. The evening starts at 17h00 with the Fu ToitsKloof shootout on the 6th hole. All members who had closest to the pin on this hole have been invited to join us for 1 shot to find the winner of a VERY special magnum of wine! That will be followed by the Friday and R10K draws, supper and nite golf. Prizegiving and a party will bring proceedings to a close. There are just 3 4-balls left, so email Carmen quickly if you want to play.
Senior Classic
The Seniors Classic happens on the 11th November. This is open to any golfer over the age of 55, men or ladies. It is filling up fast and remember, we have decided to use the Red tees exclusively for the day, making this a fun event which will still test your skills. There are already 100 spots booked so the field is filling up fast. Books yours quickly to avoid disappointment.
Greenkeepers Revenge
The Greenkeepers Revenge is another Festival event coming up next month. This is not a "silly" day with gimmicky tee shots and strange putts. It is a serious golf day with some amazing prizes and is a real test of your golfing skills. Bookings can be made at the office and this day is also open to outsiders, so feel free to bring your friends along for a great day out.
Dress up for a glamorous night out
The Big Bash is our annual year end party and this year promises to be the best yet. We secured one of the finest bands in the Cape for the evening – Mean Mr. Green. The raffles will be drawn on the night, the theme is Havanna Nights with prizes for best dressed couples and there will be some amazing food. It is the highlight of the year and members can even bring family, friends or colleagues along.
Bookings are now open with Carmen, so give her a call or e-mail her at bookings@westlakegolfclub.co.za. The price is still only R250 per person.
I mentioned three of our members making the Western Province Mid-Amateur team recently. Pictured here is the whole team with Elton James (Captain), Shaun le Roux and Weyers Janse van Rensburg included. Well done again gents. Make us proud!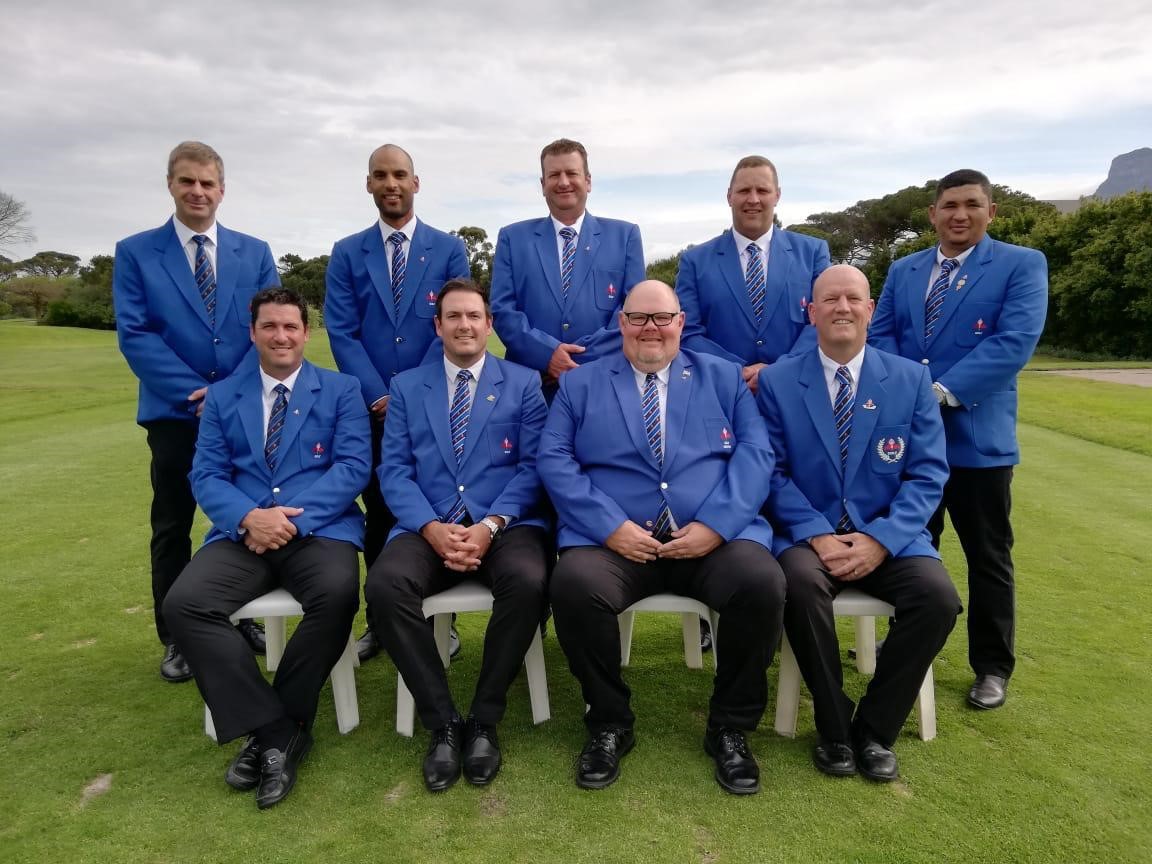 Annual League of Gentlemen bookings open
The Annual League of Gentlemen sponsored Day is happening on the 19th of October and bookings open on the 11th. All the information for this great day is available here.
Game for a Fourball this Sunday?
Last week I highlighted our Bar/ Clubhouse Manager. We will feature another position next week.
This week I wanted to highlight Sunday afternoons. Contrary to what many believe, the competition on a Sunday afternoon is not exclusively for two men and two ladies combined in every 4Ball. There can be any combination from four men to four ladies or any combination thereof.
The only official Mixed Competitions are our popular bi-monthly Open Mixed Competition or specific Trophy Events. We have a regular group of competitors every Sunday afternoon and although it is a relaxed and very enjoyable day, sponsored by Food Lovers Market Tokai, the level of competition and golf is outstanding.
Book yourself a game on a Sunday and join us. It really is a great day out.

With David Gerhardi (EOGA Steenberg)
The stick drill
We can use 3 stick drill for creating a draw pattern for irons.
These alignment sticks help with set up as well as how to come in on the inside of the ball, with the club face aiming just right of target.
To hit the draw :

1. Set up – club just right of target line

2. Getting wrists to take club inside the wrist line.
3. Getting club to swing towards right alignment (downswing)

4. Release – parallel to red stick


If you need more personal help, Alec will give you a free demonstration as a practice drill.
Contact Alec at alec@eoga.co.za or 082 829 7094.