Hello everyone,
Welcome to another full newsletter!
The Investec S.A. Ladies Open takes centre stage this week as we gear up to host this prestigious tournament for the third year in a row. The influx of officials and competitors begins in earnest on Sunday, with qualifying on Monday, the Pro Am on Wednesday and the actual tournament on Thursday, Friday and Saturday. Thank you to all the volunteers who have kindly donated their services and time to assist in the smooth running of the event. Emelia will be in touch with all volunteers with all the pertinent information during the course of the week.
Please note: A reminder to members who have trolley bays to once again clear these out by Saturday as the competitors will make use of these during their stay. Also take any belongings you may need out of lockers as access will be restricted next week.
Spectators are most welcome to attend the 3 tournament days. Parking will be at the club until capacity is reached. Thereafter, you can park along Boyes Drive and there will be a 6-seater golf cart shuttle for those unable to walk to the club gate.
A reminder that Sunday afternoon (8th March) is closed to allow competitors to practice for the Monday, so we are having the usual Sunday afternoon competition in the morning. It will still be sponsored by Food Lovers Market Tokai.
You will see some workers starting to erect signage on tee boxes on Sunday. Please treat them with respect and if they are disturbing your tee shot, just request that they stop their activities while you tee off. Thanks for your co-operation with this.
This Friday evening is the R10K draw. We have a great local band, Crimson, performing live and there will be delicious "Build a burgers" on sale. It promises to be a festive evening so be sure to join us. Table bookings can be made directly with Peter and Lindsay. See you there.
News from the course
This week on the golf course we have started with final preparations for the SA Ladies Open. All of the greens, green surrounds, tee boxes and fairways have been fertilized and watered. The fertilizer takes roughly 7 days before it starts to take action, so our timing will be just perfect.
In addition, we will now start to emphasise good housekeeping on the golf course and will also start to fine tune the moisture content on the playing surfaces, so that we are as close to perfect as possible for when the tournament starts.
A reminder about the bunker sand trial we are conducting in the bunker on the extra par 3 and at the driving range practice facility. Please give these bunkers a try and let Raymond know what you think of the sand quality.
Competition news
Our Ladies played League last week and the good news is that Westlake had another successful day.
Bronze Division Section 3 and 4 played at Westlake:-
• Bronze 1 Section 3 beat Durbanville 2.5 – 0.5
• Bronze 2 Section 4 beat Milnerton 2.5 – 0.5
Silver Section 2 played at Parow:-
• Silver 2 beat Parow/Bellville 4-2 and beat Steenberg 4-2
• Silver 3 beat Strand 4-2
Silver Section 1 played at Durbanville:-
Silver 1 beat Milnerton 4-2 but lost to Somerset West 2.5 – 3.5
Well done ladies! The next ladies fixture is on Tuesday 10th March.
This Tuesday, the Westlake Tuesday afternoon ladies played their Monthly Medal competition in very warm conditions. In addition, they played for the Fresnaye Cup – awarded to the best nett score – strokeplay. The winner, on a very good nett score of 66 was Lotta Kuhlmann, pictured below with Joan Bulgin, lady Vice President.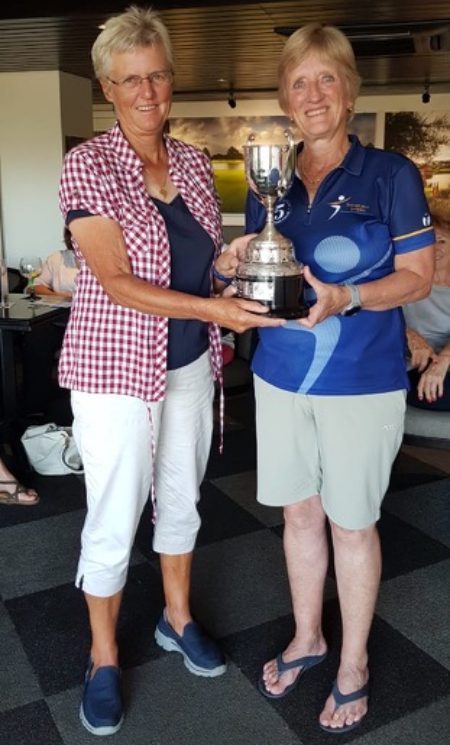 Winners of the Wags Dennis Genders Memorial Day on Tuesday 18 February were Roy Hulton (representing sponsors) John Burton, Chris Banks, Klaus Steinau, and Dennis Hartogh. Well done, gentlemen.
A reminder that the Masters Par 3 competition entries are open. This is a very popular day and will take place on Thursday 9th April as Friday 10th is Good Friday and the club is closed. Cost is R240 for members and R330 for visitors and includes golf, supper and music. Please enter directly at the office.
A reminder to please fill in scorecards completely. All details should be filled in to be eligible for prizes. Thanks for your understanding with this.
Have a great week and please join us at the S.A. Open. These ladies are brilliant!
Dave & the amazing Westlake Team