Hi everyone
I am sure many of you have seen the whatsapp video of the apartment in Blouberg being blown apart by the storm on Tuesday. Mother Nature has certainly being giving us plenty of wind and welcome rain. The reason I raise this is because, despite all the rain, our course is holding up remarkably well. It drains very efficiently with the sandy base and carts are usually available within a day of the heaviest rains. Be assured that we will only cancel carts when the potential for damage to the course is too great to allow them. If you do use a cart and some areas are muddy, please use common sense and avoid them. We all need to assist in keeping the course pristine.
The Cape of Good Hope Wine Series
This Saturday afternoon, there is a GolfRSA initiative at the club – The Cape of Good Hope Wine Series is a Betterball Stableford tournament that will enable winning pairs from the club qualifiers to contest the regional final, in a qualifying process that culminates in the national final at Leopard Creek in September.  Winners of the national final are invited to play in the Pro-Am of the Alfred Dunhill Championship at Leopard Creek. Every golfer who registers and plays in this club qualifier is also automatically entered into a lucky draw for a chance to win a VIP Guest Experience at the Dunhill Links Championship in Scotland in September. Entry fee is R76, this includes your competition fee, ball pool, two club, water levy and one rand. R20 is donated to charity and the balance is for prizes. Enjoy and good luck gents.
Cynodon removal update
I am happy to report that we are making very good progress on the Cynodon removal from our greens. For the next few weeks our Cynodon removal schedule will be as follows:
· 29th of July – 9th of August (16th green right hand side)
· 12th of August – 16th of August (10th green)
·  19th of August – 30th of August (16th green left hand side)
Please take note:
The above mentioned holes will be worked on while they are closed for play and the new par 3 will be in play.
Together with the afore mentioned, we will also be doing some Cynodon removal on some of the smaller greens areas around the course (without closing the hole for play, but care will be taken to not disrupt golfers).
On alternate weeks we will also start opening the full course for members competitions (Tuesdays and Wednesdays). One week the full course will be open on a Tuesday and the next week the full course will be open on a Wednesday. During those days Cynodon removal will be done on the practice putting green.
The full course will be open on all weekends.

Who's been winning?
Our ladies league teams have been doing very well and now have a bit of a rest before the next round on the 20th August. Westlake is looking good – Silver 1 and 2 are both top of their Sections and Bronze 1, 2 and 3 are all in second place in their Sections. Well done ladies!
The Parow Open was held on Sunday. Westlake was once again well represented. Kyran Hawkins led the charge coming home in 4th on -2. Tied for 6th on +2 were Christian Hembold and Shaun le Roux with Glen Campbell on +8. Well done gents. As an aside, Christian Hembold is off to Hong Kong next Thursday for a 2 year stint where he will be teaching and hopefully playing some superb golf. Let's give him a real Westlake send-off in the next few days and from everyone at Westlake Christian, good luck, every success and we look forward to welcoming you back!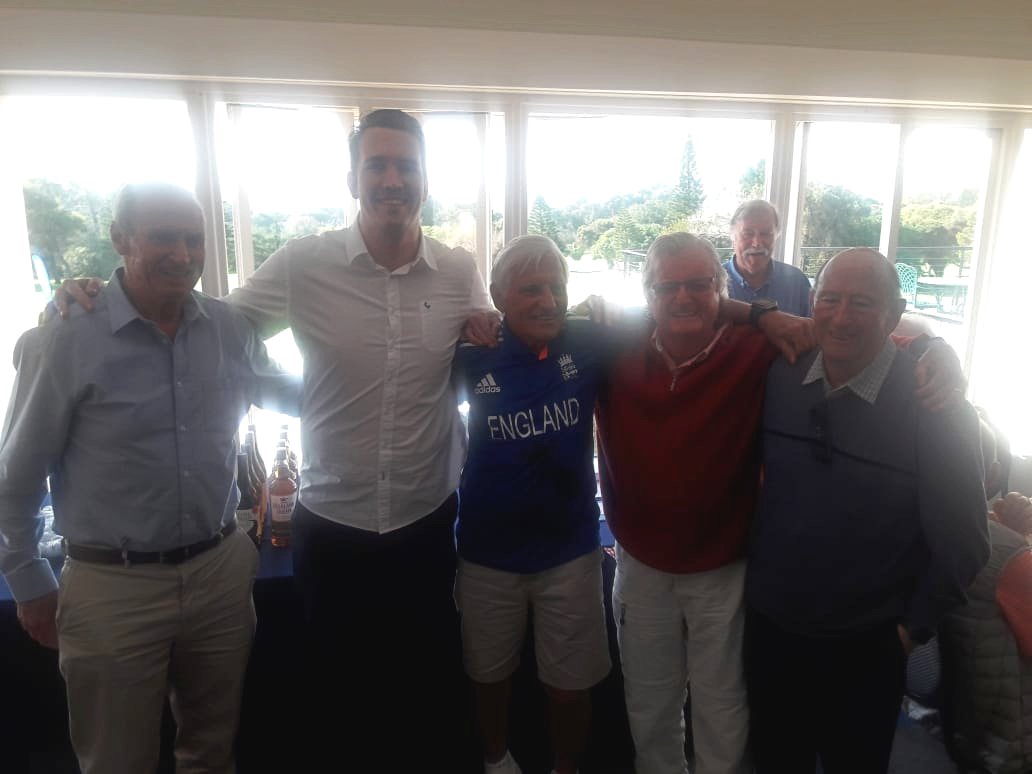 Winners of the annual Wags Warwick Golf Day held on Tuesday 16 July were Pieter van Linden, Richard Filer (Sponsor), Ted Ragan, Duncan Simpson, Mike Richardson (see pic above).
What to look forward to
As you all know, the annual Festival events are creeping ever closer. You can see all the details on the pull-up banner in the bar and entries for all the days are open. Just call the office for assistance. A special word of thanks to Courier IT who have stepped up to sponsor the Nite Golf and the Wednesday Classic in November. Many thanks to Giovanni and his team. If you would like to be involved with your company in sponsorship of Festival, have a word with Nic Lochner or myself.
On another note, 2 Westlake members, Alison and David Bourne were lucky enough to be at The Open enjoying an amazing tournament this past week.  They spent some time following Louis Oosthuizen and came across AB de Villiers during their day too. What a great way to spend a weekend!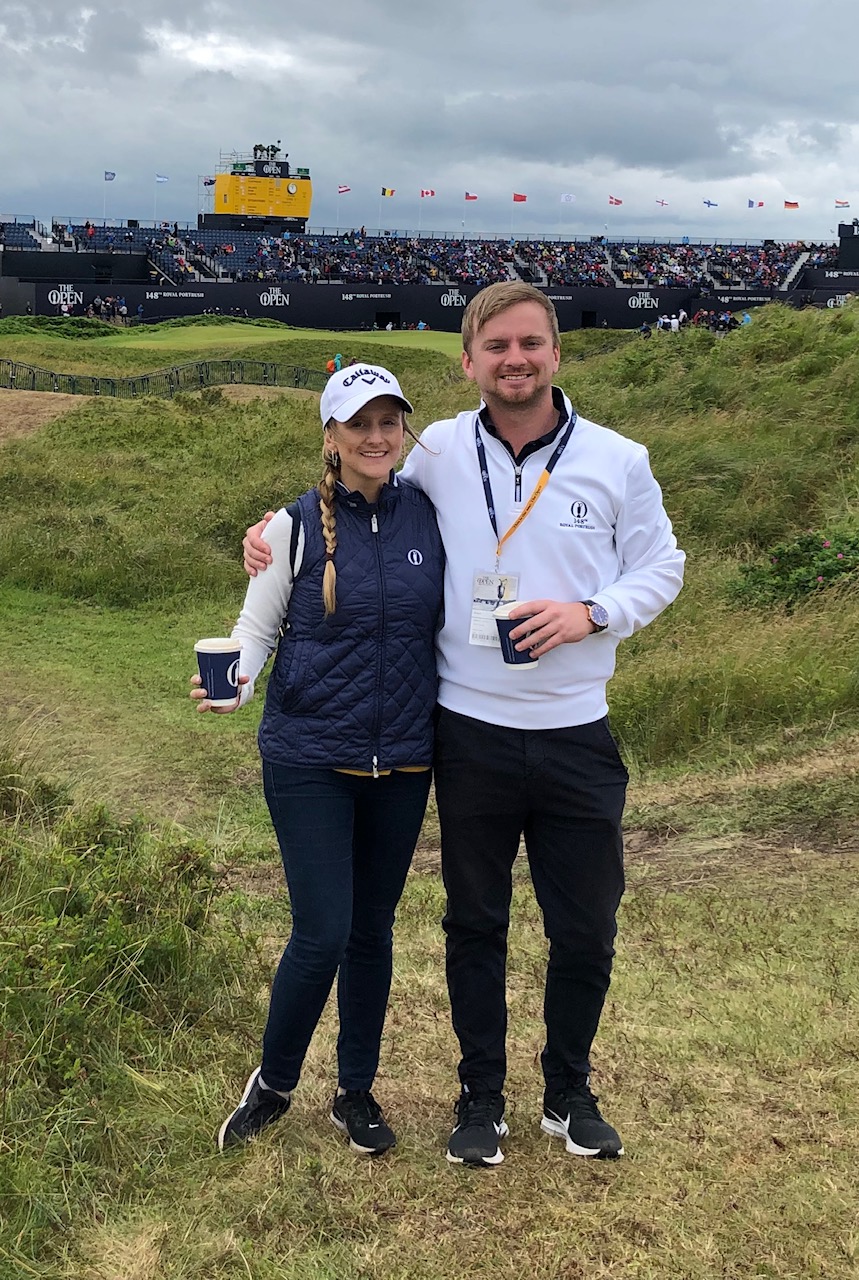 By now you will have all seen posters about the R10K draw on the 16th August. Matt Carstens will be performing live and he is a seriously talented musician. Food will be "build a schwarma" and total cost for members is only R100pp and R120pp for visitors. Make your bookings and pre-payment directly at the half-way house or email Lindsay & Peter at lindsayward@mweb.co.za before Friday, 9th August.
While on the subject of Friday Draws, the usual Friday Draw is climbing steadily and stands at R5 720 this week. Make sure you are in the pub on Friday evening and who knows… it could be you!
The Westlake Foursomes is on 15th September 2019. Are you ready for 36 holes of fun? For R390pp, which includes half-way and pizzas at prizegiving, the Westlake Foursomes is a must play. The maximum combined handicap is 9, and the field is limited to 60 pairs. Entries are filling up fast, so book your spot with Emelia today by emailing membership@westlakegolfclub.co.za.
Weekly tips with EOGA


Stuck behind the tree and don't want to punch out sideways?
Here's how to hit a low hook :
•    Push the ball back in your stance
•    Close your feet and shoulder line to target
•    Aim right with the club face
•    Close the face slightly
•    Make a half backswing and a quick follow through to encourage that hook
•    Trust the shot and follow through

If you need more help and some practice, contact Alec at alec@eoga.co.za or 082 829 7094.
Have a great week and see you all at the club this weekend.
David and the Westlake team