Hello everyone,
It has been a very busy week for everyone at the Club, with finalisation of all the subs letters and pro forma invoices. You should have received your pro forma invoice and the attached letter by now. If not, please contact Emelia at membership@westlakegolfclub.co.za. Just a reminder to specify what any payment is for when doing an EFT. Your subs letter does specify what is required so please adhere to that. It makes allocating each payment to the correct member so much easier.
We have a great deal of information in the newsletter today, so I will list each item for easy access.
Tuesday 4th August
Wags 4 Ball Alliance Stableford
1st Jan Chrobok, Ted Ragan, Eddie Radford – 86
2nd Vince Davies, Ken Gass, David Draude, Brendan Taylor – 82
Tuesday 4th August
Ladies Individual Stableford
1st Morag Burrell +2 c/in
2nd Brigitte Parker +2 c/out
3rd Joan Bulgin -1 c/in
4th Lindsay Minnaar -1 c/out
5th Mary Gillette -1 c/out
Julie Clifton won the Zoutendyk trophy. Congratulations to her!
Also, congratulations to Lynsay Minnaar as the new Vice Captain for the ladies as of 1 August 2020.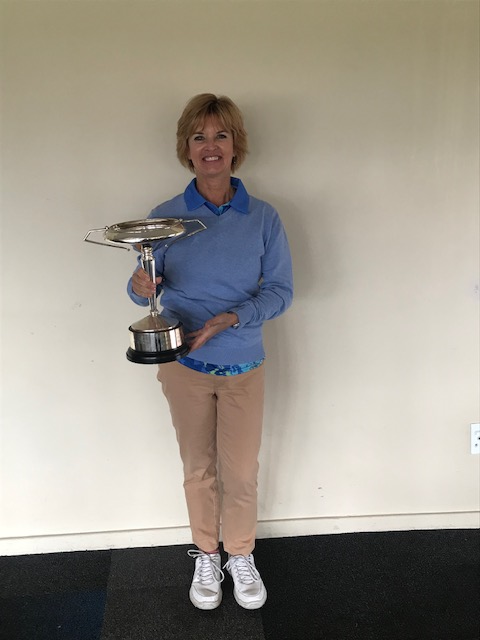 Julie Clifton proudly holding the Zoutendyk trophy
Wednesday 5th August
Men's 4BBB Stableford
1st Richard Hewitt, John van Ryneveld  – 48
2nd John Brayne, Stephen Jefferies – 47
3rd Gunter Weimar, Jeremy Park – 44
4th Peter R. Davis, Nigel Cornfield – 43 c/in
5th Bob Caldwell, Maurice Grant – 43 c/out
6th Jaco De Jager, Lee Balding – 42 c/in
Good scores
John Brayne 91-24=67
Winnings
Just a reminder that because of Covid, we do not deal in cash if at all possible. All 100 Club and prize winners will have their money put into their spending accounts.
Use of tags
Everyone is asked to please use your own entrance tag at the boom gate when entering the club. There are a number of reasons for this:
· We have a record of your arrival at the club for Covid tracing purposes. If the guard uses his tag, we have no idea who has entered the club.
· Safety of your vehicle – if you use your tag when the guard has finished taking your temperature, you control the opening of the boom gate. This will prevent any incidents with the boom coming down as you drive through.
Wearing of masks
A reminder to always put your mask back on when coming off the course. This is especially important when in close proximity to others near halfway, in the Pro Shop or when going to the toilets. For everyone's safety, please remember to do this.
One tee starts
The Golf Ops team are working tirelessly to find ways to increase the number of rounds we can make available for you to play. A few weeks ago, we moved every day to 2 tee starts with the exception of Mondays. At that stage, it made sense, as we gained 2 extra slots per day. Now that we are permitted shorter intervals on 1 tee starts and the days are getting longer, that advantage has swung slightly in favour of 1 tee starts. The other positive with a 1 tee start is that it allows a LOT more twilight and 9 hole rounds through the afternoon than 2 tees.
As a result, we have made a small change:
· Tuesday, Wednesday, Friday and Saturday will remain 2 tee starts.
· Monday, Thursday and Sunday will move to 1 tee starts. (There will be some Thursdays that may change to 2 Tees to accommodate golf days going forward, but we will keep everyone informed about those).
Sit down meals and takeaways
Chef Deon has been very busy with his pre-cooked meals and planning for sit-down meals on the forecourt after golf.
New operating hours for halfway, starting the 10th August:
· Monday -Saturday 07h00 – 17h00 (non-alcoholic drinks available a little later as demand dictates)
· Sunday 07h00 – 16h00
The kitchen will be open for sit-down meals from 11h00 – 16h00 Monday to Saturday and 11h00 – 15h00 on Sunday.
Menu (sit down & plated service in the forecourt area)
· Thai Chicken Curry & Rice with sambals @ R65.00 per portion
(Chicken breast cubes smothered in a fragrant Thai curry sauce, served with coriander basmati rice and topped with an onion, tomato & chilli sambal)
· Beef Lasagne @ R55.00 per portion
(Beef mince cooked in our special aurora sauce , layered with fresh, home-made pasta sheets, topped with a two cheese mix and served with a side salad)
· Vegetarian Stack @ R45.00 per portion
(Grilled eggplant topped with panko crusted halloumi cheese & drizzled with fresh basil pesto)
The takeaway menu remains in place. Please note that the Vegetarian Cannelloni has been changed to a Vegetarian Lasagne with the same description.
Please don't hesitate to contact Chef Deon with your takeaway orders or any queries at chef@westlakegolfclub.co.za
Remember you are welcome to enjoy a cold (non-alcoholic) beer or cider after golf. Ask the staff for available options. Please adhere to social distancing guidelines and sanitize tables and chairs with the sanitizer provided on the tables. Have fun and stay safe.
New local rules
· Distance poles along the fairway may not be touched or removed. 2 shot penalty applies. You have one club length relief for interference of stance or swing. NO relief for line of sight. The 2 stroke penalty for touching anything on the course is in place everywhere and is there to stop the spread of Covid. Please be careful and responsible out there.

· One club length placing in bunkers IF you ball is in a shoe print or divot only. NO placing if you simply don't like your lie.
· Temporary greens on the 13th and 16th fairways may not be played off. These are no play zones you must take relief – This is a drop (and placing) at the nearest point of relief.
W.P Golf Boot slammer series for amateur golfers
Entries are now open for the Boot Slammer Series. To enter, please go online:  www.westernprovincegolf.co.za
· Bellville Open – 23 August
· Kuils River Open – 6 September
· Parow Open – 13 September
· Rondebosch Open – 27 September
All entries and payment are done online – no email or telephone entries will be accepted.
Nomads visit
Our golf day season kicks off on the 20th August with the Nomads. This is a Thursday and it will be a 2 tee start as alluded to above. Members can still book and play in the morning field. We are very grateful for this and all other golf days going ahead despite the Covid-19 pandemic. Golf days are a great help in meeting our budgets.
In conclusion, thank you all for the many positive comments and kind words about the effort that the Committee, management and staff have put in. These sentiments really make a difference and we are all very grateful. Together we will not only survive this pandemic, but the club with thrive.
Have a great week and happy golfing.
Best wishes,
David & the Westlake Team
 What's for lunch?