Hello everyone,
Another wet week has passed. The rain has meant some fields being closed to carts, but the fact that many of the Western Cape catchment dams and our own 7th dam are full is very good news indeed!
Let's start the week with some good news. Our new telephone system is in which means we are no longer reliant on Telkom and will save a great deal of money from now on. Like all new systems, there could be the odd issue, so please report anything untoward to me directly at manager@westlakegolfclub.co.za. That way I can address the issue immediately and resolve it.
On a sadder note, we were shocked to hear that Club stalwart Ron Geddes passed away suddenly on Wednesday morning. Ron was just 66 and was a member for some 31 years. He served on various committees over the years and was a great source of information to me personally when we tackled the water purification project a while back. His ready wit and regular presence in the Main Bar in the afternoon will be greatly missed. The funeral will be at the Christchurch Constantia next Thursday 8th August at 12h00.
League News
We have 4 Leagues getting underway from this weekend and the teams are as follows:
Super senior's squad
1. Barrie Downes
2. Mike Charters
3. Dudley Rosier
4. Barry Meeser
5. Martin Hill
2nd Challenge
1. Matt Jewell
2. Justin Bijl
3. Troy Straszacker
4. Gray Cones
5. Chad Hanslo
6. Grant Kennedy
7. Michael Els
8. Graeme Knott
9. Bradley Burger
10. Justin Sproul
1st Challenge
1. Neil Campbell
2. Nic Steenekamp
3. Byron Mohr
4. Mark Coram
5. Jeremy Park
6. Duane Galloway
7. Robert Larsen
8. Jacques Kallis
9. Jono Watkins-Baker
10. Brendan Mackey-Leslie
Premier League
1. Shaun Le Roux
2. Kyron Hawkins
3. Uli Boezaart
4. Weyer Janse Van Rensburg
5. Glen Campbell
6. Pietie Loubser
7. Zach Miller
8. Charl Everts
9. Elton James
Well done to everyone for being selected, thank you for your participation and may we wish you all the best of luck and much success!
Party Party Party!
Friday 16th August is the next R10K Draw. Matt Carstens will be performing live and he is an outstanding musician. Food will be "build a schwarma" and total cost for members is only R100pp and R120pp for visitors. Make your bookings and pre-payment directly at the half-way house or email Lindsay & Peter at lindsayward@mweb.co.za as soon as possible to secure your table. Tell your friends and family and bring them along.
We have been hard at work ensuring all our admin is up to date and one area that we need to tighten up is on collection of Trail Fees. This is just R5 per round for all private cart users. If you use your cart to play golf at the club, you should be paying R5 every time. The Pro Shop staff don't always know if you are doing so and some members share with others and don't use their own carts every time they play. Could we request that you tell the Pro Shop staff when you use your own cart and pay the R5, as all this money goes towards cart paths. Thanks for your co-operation with this worthwhile initiative.
Some good news is that we still have 5 spots open for the Westlake Corporate Classic Invitational. If you would like to buy a 4ball please contact Emelia. All the information is below. This is a hugely popular day with lots of activations, great food and a lot to look forward to. Ideal for you to treat your best clients.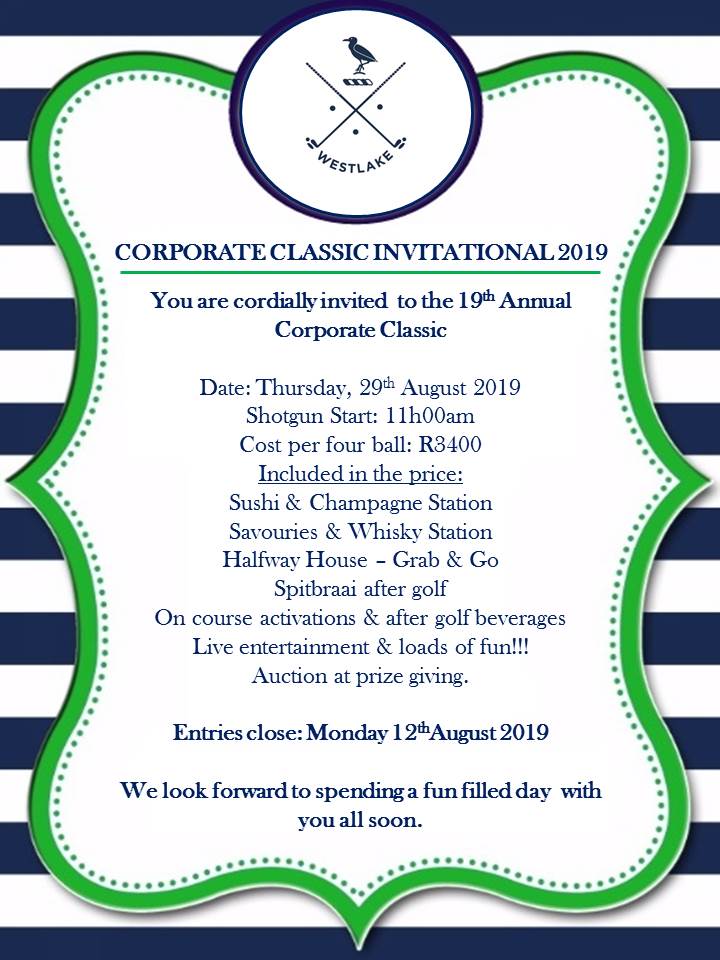 Another golf day worth supporting is the annual Paelspal Golf Day on Thursday 8th August. This is in support of a fantastic charity that provides care and support to children with life threatening diseases. If you want to have a great day and ensure your money is going to something really important, this is for you! Please note that all participants pay for the day as all money raised is for a great cause. See below for more information.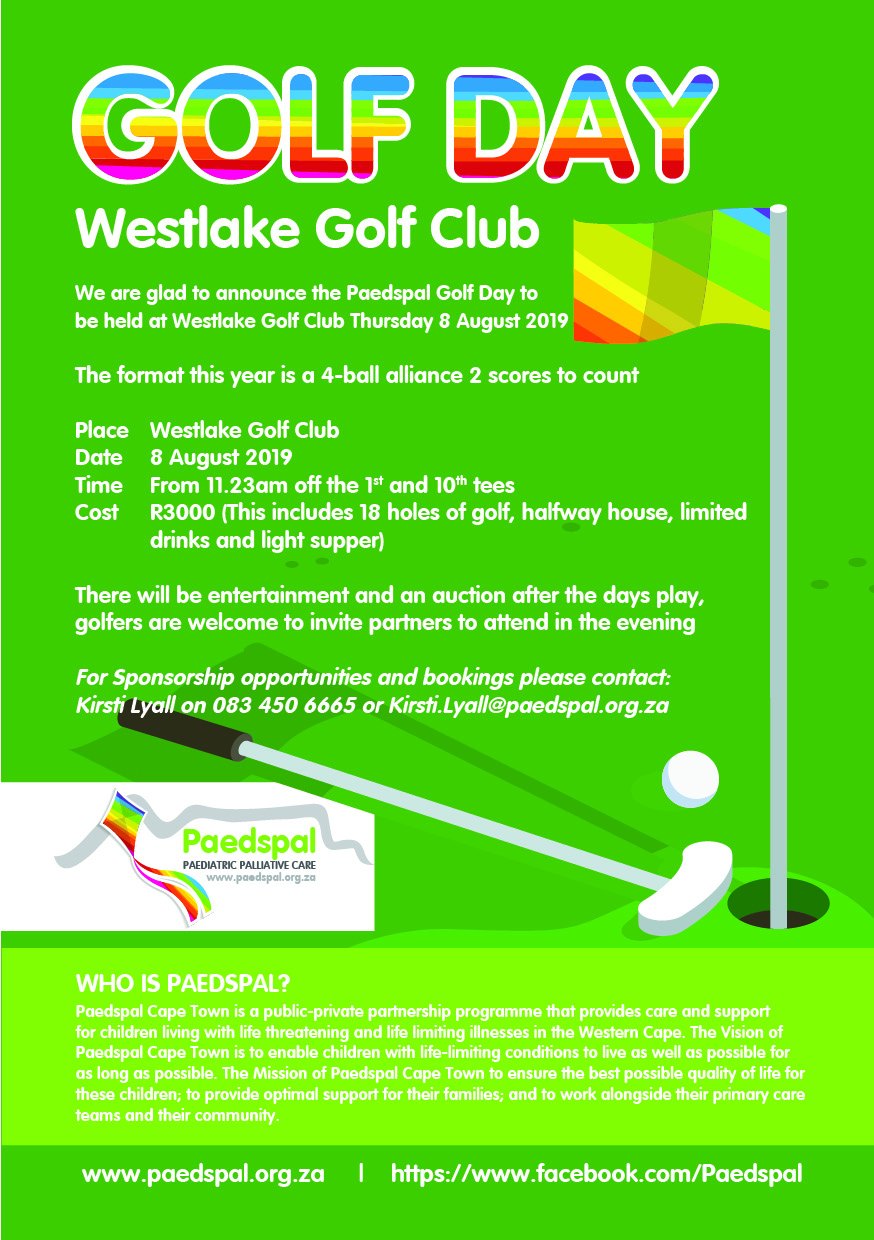 Don't forget the Westlake Foursomes on the 15th September 2019. Are you ready for 36 holes of fun? For R390pp, which includes half-way and pizzas at prizegiving, the Westlake Foursomes is a no brainer – big fun! The maximum combined handicap is 9, and the field is limited to 60 pairs. Entries are filling up fast, so book your spot with Emelia today by emailing membership@westlakegolfclub.co.za.
The amount of cigarette stompies lying on the course has been increasing recently. 2 were found on greens over the weekend. Could we request that you put out your stompie and dispose of it in a container you carry with you or in the bins on the tees (properly put out of course). Thanks for your co-operation with this.
Weekly Golf Tip from EOGA


Stuck behind a tree with a top right flag position?
Here's how to hit a high slice:
–    Push the ball forward in your stance, inside the left foot
–    Open up your feet and shoulders left of target
–    Slightly open the club face
–    Feel the club going a little bit outside in the backswing
–    Make sure to hold that club face and swing the club left
–    Trust the shot and follow trough

If you'd like to try it with professional help, contact EOGA coach Alec
082 829 7094 or alec@eoga.co.za
Have a great week. See you all at the club.
Dave & the team