Hello everyone,
It has been a tumultuous week in the golf industry in South Africa. Some golf estates and a few courses decided to open up for golf and defy the current Level 3 regulations. This caused an initial outcry from many members of other clubs, with many asking why they could not also return to the sport they love.
We are in a fortunate position, in that we know exactly what the latest news is regarding any possible opening of clubs. A number of our members did contact me about this over the weekend and I explained that these establishments were acting outside the national agreement, namely that GolfRSA are representing all clubs in a united front and dealing daily with Government.
Predictably, a number of these clubs were raided by police over the weekend and closed down and it seems that most of the other "open" clubs have once again closed until further notice.
The unfortunate result of all of this is that it appears as if their actions may have had a negative impact on when we will all be permitted to return. A letter was sent out by the Director-General of Sport, Arts and Culture addressing the contraventions, which you can read here for your information.
Westlake continues to support the GolfRSA initiative aimed at getting all golf clubs across the country open as soon as possible. We fully understand and share your frustrations, but must comply with the law in this regard.
The latest news is that there were no regulations in the Government Gazette yesterday, which was another rumour being spread in some circles. If we hear anything, we will inform you all as a matter of urgency.
Other news
The one message that we are getting from all our online industry webinars and from you, our members, is that you would like more communication. I therefore thought it prudent to share some other interesting information with you this week.
1. GolfRSA put out some provisional Risk Guidelines last week and this was also circulated in some circles. You can see those documents here. It is very important to note that these are only proposals at the time of writing and they have been changed a number of times in recent weeks. Only once Government gives their final official regulations, will we know what is really required of all of us and what will be permitted. An example of this is that originally we were only allowed 2 balls every 10 minutes. You will see this is now changed to 4 balls every 12 minutes. Both are 1 tee starts. This is NOT cast in stone and could very well change again.
2. I have just come out of a Compliance Officer training webinar with GolfRSA. We are currently hard at work with preparations and setting up staff training, which is also a pre-requisite prior to opening. The 3 most pertinent things that I picked up in that session and haven't heard before are the following:
· We all know that transmission is spread through coughing, talking etc. They described this phenomenon perfectly:- The aerosol effect. Think of a can of aerosol spray being sprayed. That is how far you can distribute the virus when talking, coughing etc!
· In wind, this can be increased by up to 5 metres! So masks must be kept on while playing. Someone 2 metres from you on a windy fairway, green or tee box could easily infect you!
· Washing face masks may not kill all Covid-19 particles. Use a hot iron to be sure.
3. Another very interesting webinar I attended today was for the Clubmaster App and all the fantastic new features it contains. Westlake runs Clubmaster, so it is free to all our members. This is our preferred method for bookings and payments. A few great innovations include the following:
· It enables you to comply with Covid-19 checks and you will be able to book your game, check in and even pay for your game, cart etc. on the App.
· Download/Upgrade the Clubmaster App for free so long. We will provide you with complete guidelines on how everything works next week.
Member Survey
A BIG word of thanks to everyone who took the time to complete the members survey we sent out late last week. We have had over 400 replies, which is 35% success rate – the highest our service provider has ever seen! That says a great deal about our members and how much you all love Westlake. WELL DONE. We are compiling all the data and will put it to good use – more info on that next week.
NB. There were some members who experienced difficulties opening or even receiving the survey. You can access the survey here and are welcome to give us your feedback if you haven't done so already.
Alcohol Sales
This service has really been embraced by you all! Thank you for the support. It is an easy process and the info includes products and prices which is explained again here. E-mail your order to nick@westlakegolfclub.co.za. We send you an e-mail with an invoice. Pay online, send us proof of payment and collect when Nick has indicated. Keep those orders coming in.
Club news
Another word of thanks to everyone who has continued to support our Caddie, Casual and Staff Fund. We assisted caddies this week with much needed funds thanks to the SLOGS fund raiser last week. It was very gratefully accepted, thank you gents. The casuals will receive some much needed funds next.
As usual, if you would like to donate anything to this very worthwhile cause, you can do so as follows:
The bank details are as follows:
Westlake Golf Club
Bank: Nedbank
Acc #: 1130996441
Branch #: 123209
Please use "Lockdown Cad", "Lockdown Cas" or "Lockdown Staff" as your payment reference for the 3 options.
Another issue that we investigated was the possibility of allowing our members to "exercise" on the course during the lockdown. In theory this seemed like a possibility, but when the actual regulations were scrutinised, it was clear that the club and course should remain closed and all activities should have ceased from the start of lockdown. Being bordered by busy roads, it was obvious that taking any chances would jeopardise Westlake and the national effort to get back to golf as quickly as possible. Should this change, we will certainly advise everyone.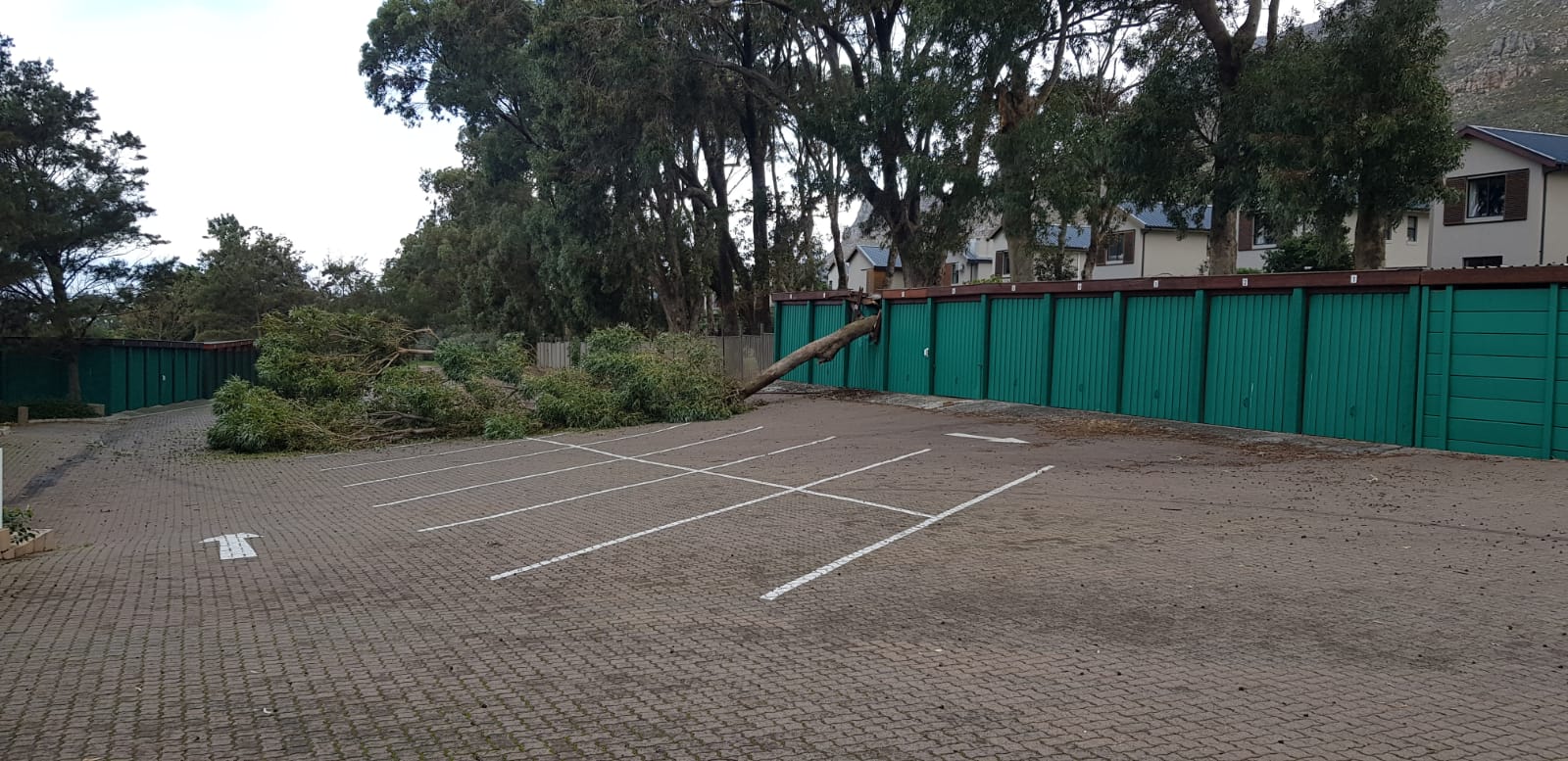 The storm that has been raging since Tuesday night took its toll on the club on Wednesday afternoon, with a large tree coming down on one of the member's cart garages.  I obviously contacted our insurance broker, Brent Lyall immediately to arrange insurance. It turns out that garage is used by… wait for it… Brent Lyall! Luckily there was no damage to the cart and contents. While on the subject of carts, members who have carts stored at the club are welcome to come and check their carts and batteries.
Have a good week and stay well,
David & the Westlake Team