Hello everyone,
Let's start this week with upcoming happenings.
This Friday night is the R5K Draw with the outstanding Francois appearing live and some great food on sale!
The menu is as follows:
·   Chicken Schnitzel with a creamy Cheese Sauce
·   Rare Roast Beef with a Rosemary Jus
·   Both served with Cajun Potato Wedges & Oven Roasted Vegetables
·  Xmas Pudding & Custard also included for R100.00 per person
You are welcome to book a table at the office and please note that social distancing remains in place.
Speaking of social distancing, kindly wear a mask when not seated or playing golf, maintain social distancing and sanitise/wash hands regularly. In addition, if you need to self-isolate due to exposure to a person who has tested positive for Covid, or if you have contracted the disease yourself, please ensure that you only return to the club when it is absolutely safe to do so. We all rely on one another to remain healthy and safe.
WP Raffle
W.P. Golf Union are doing a raffle at all Clubs in our province with some great prizes. The sole aim of this raffle is to give the staff of each club something small towards their Christmas as bonuses are not being paid. All proceeds raised by Westlake members will go exclusively to the Westlake staff, so if you would like to support the staff and buy a ticket, they are available at the club. See more information here.
Hamper Day
This very popular day is this Sunday the 6th December. Bookings are open at the office and there are still spots open. Cost per person: Members R160 (comp fee and levies included) and Visitors R400 (green fees, comp fee & levies included). Each 4 Ball should include at least one lady.
Christmas Lunch
We are having our Christmas Lunch on Sunday 20th December. As always with Chef Dion, it will be a delicious meal and you are welcome to invite family and friends along.
Bookings are essential and can be made via e-mail – membership@westlakegolfclub.co.za. The menu can be viewed here. Please note that a minimum of 30 people will be required for the lunch to take place.
Our new Committee
Our new Committee met for the first time this week and the various portfolios were allocated. In brief they are as follows for everyone's information. This should assist when you have a specific query and are not sure who to discuss it with. (Always remember that the staff and I are happy and willing to assist, so feel free to address your queries to us first).
· Morag Magnussen – House matters (F&B and Club house)
· Bruce Maxwell – Treasurer (Finance)
· Lynsay Minnaar – Ladies Captain
· Dave Granger – H.R.
· Gunter Weimar – Golf Ops (Golf, handicaps, rules, leagues and competitions)
· Steve Du Pont – Membership
· Geoff Tuck with Brendan Mackay Leslie & Gunter Weimar – Greens
· Brendan Mackay Leslie – Revenue (New Portfolio – Revenue of Sales, Marketing etc.) Steve Du Pont & Gunter Weimar also assist with this.
Stroking of the course
A reminder that this will change on 1 January. We will provide more information in the newsletter next week.
New Paving
The new paving between the 12th green and 13th Tee will commence on Monday. This should be completed in the week, so just be aware and if your shot is heading in the direction of the workers there, please shout timeously. This will not disrupt your game.
Leagues
A reminder to anyone wanting to play Mid-Amateur and Masters Leagues which start in January, you should put your names on the lists in the foyer. Nic and the Golf Ops team need to start working out teams soon, so they need to know who is available.
1 December
Wags Equity Estates Golf Day
1st Richard Smith, Offie Fehrsen, Roy Hulton, Ted Dowling
1 December
Ladies Medal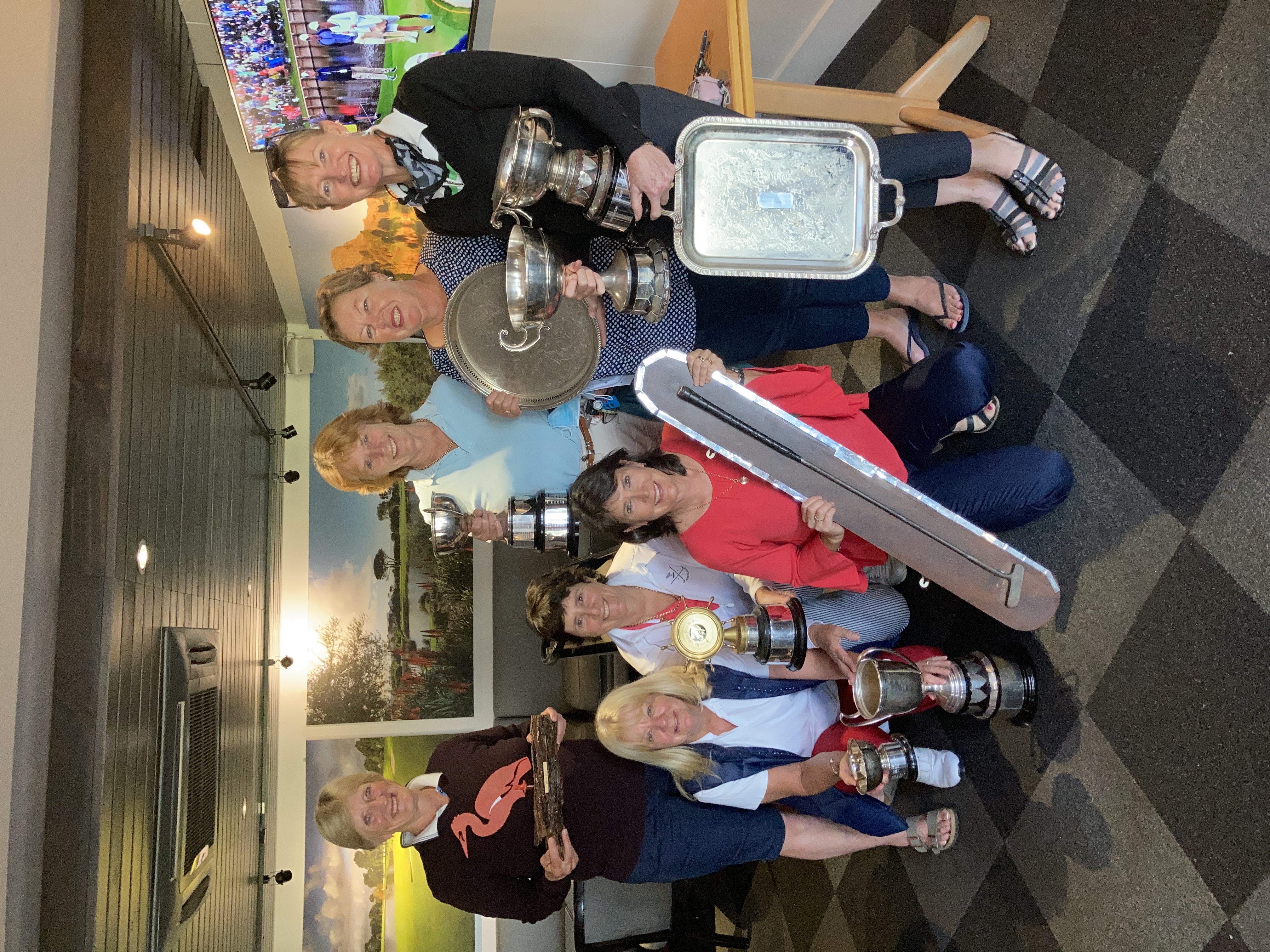 Ladies Annual Xmas competition.
Silver Division
1st Gail Thane 88-17=71
2nd Lotta Kuhlman 86-15=71
3rd Julie Dyer 91-19=72
Best Gross Lotta Kuhlman 86
Bronze Division
1st Jane Waters 94-24=70
2nd Jacky Plimsoll 89-19=70
3rd Isobel Firmin 100-27=73
Best Gross Jacky Plimsoll 89
2 December
4 Ball Betterball Stroke
Sponsored by Sanlam Glacier
1st Gunter Muller, Arnold Wehmhoerner – 62
2nd Glen Gibbons, Dennis Thane – 63 c/in
3rd Gus Wylie, Gill Joyce – 63 c/out
4th Jaco de Jager, Lee Balding – 64
5th Cecil Jacobs, Gerhard Fortuin – 65
Good Scores
·  Arnold Wehmhoerner 96-28=68
·  Jan Chrobok 88-19=69
·  Glen Gibbons 83-15=68
·  Gill Joyce 92-23=69
In the Royal Cape Open held on Sunday, Westlake had a very good showing with Shaun Le Roux missing the win by just 1 shot! The three top results for our members were as follows:
·  72 – Shaun Le Roux
·  74 – Christiaan Helmbold
·  75 – Pietie Loubser
Well done to all the Westlake members for representing the club!
Finally, just a reminder to take care when using drive carts on the course. These carts, while very tough, cannot withstand driving at full speed over rough terrain indefinitely. There have been a few instances where players have been seen driving recklessly and we appeal to all cart users to exercise caution when using a club cart.
We wish you all a great week and enjoy all the events and fun at the club this week!
David & the Team
Unlock extra distance
A lot can happen in two metres
Increasing your ball speed by just 1mph adds two metres to your driver shot.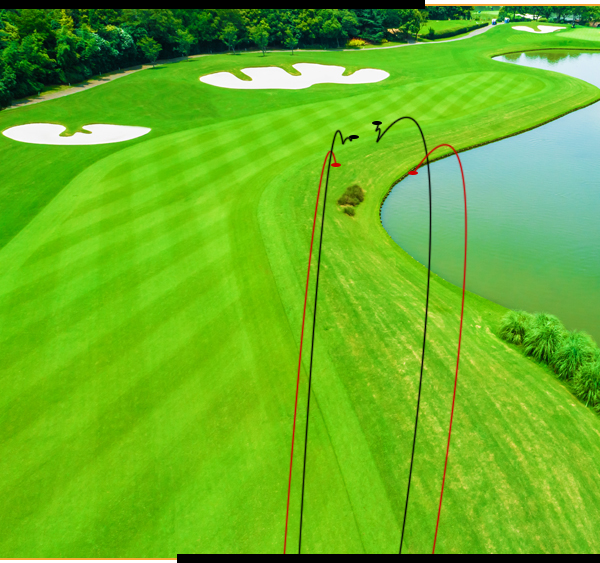 •Short in the HAZARDS
• TWO METRES EXTRA  in the clear
Two metres could be the difference between landing on the other side of a water hazard, or in it. It could be the difference between the light rough and the heavy rough, or the lip of a fairway bunker and the short, firm grass right next to it.
How many metres can we add in a single fitting?
There are many aspects of your driver setup we can consider adjusting to increase your distance.
We'll want to make sure you've got the right shaft length and weight. Also we'll look at things like your angle of attack and dynamic loft.
No metre untapped
Finding your perfect fitting configuration will help you get every metre you're capable of. If you want to go longer, then when we next see you, let's talk about it, or we could also
Start a conversation now>
Get stronger go longer
More power with less effort
The core – trunk and hips – forms the base of any dynamic movement, like the golf swing. The stronger it is, the more easily you can generate power and distance.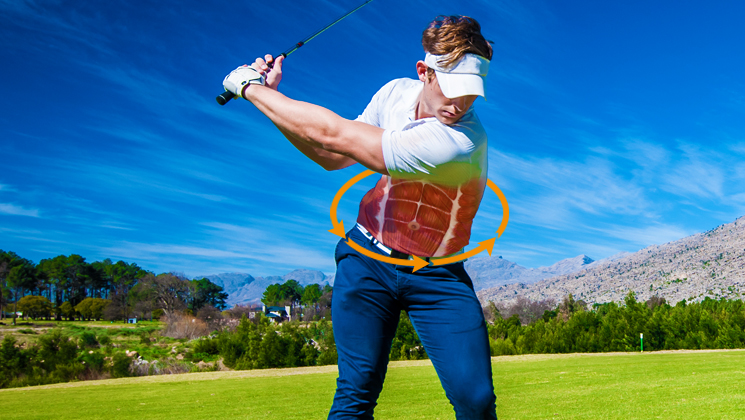 Plank for extra metres
A strong core helps you generate more swing speed. The plank is a simple yet effective way to strengthen it.

If you're unsure how to perform this exercise, please ask a fitness expert. They can also show you progressions if you want more of a challenge.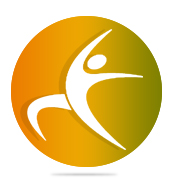 More ways to work your core
The plank is just one of many core exercises. Check out these other great options.
Learn more >
Double your advantage
A stronger core becomes even more of an advantage when your swing is consistent. A swing assessment helps us see where you're at. If that's something that interests you, when we see you again, let's talk about it, or start a conversation now.
Contact us >