Hello everyone, welcome to the last newsletter in January! (Scary how fast time flies!)
Farewell Norman
Norman Lile is leaving the Cape and some of the members have arranged a farewell get-together in the member's bar for him next Tuesday, 4th February at 17h00. Everyone is most welcome to attend.
You will be missed Bugs
The wake for Bugs Wilson was held this Tuesday and there were in excess of 100 family and friends in attendance. It was a fitting send off for a man much loved by everyone. He will be missed.
'Safers' take the win
Earlier on Tuesday, The Wags International Day was won by the 'Safers'. The individual competition winners were John Bromhall and Pieter van Lienden. The guys certainly dressed the part!
Individual Winners of the Wags International Day
Dressed the part
League is in full swing
The leagues got off to a flying start this past week. The men had 2 good wins against Rondebosch, with the masters winning 3-1 and the mid-amateur side prevailing 5,5 – 2,5. Well done gents. The next fixtures are on 15th February.
On the ladies side, things also went well.
Silver 1,  playing at Royal Cape (Singles matchplay) beat Rondebosch 4-2 and beat Durbanville 3.5 – 2.5.
Silver 2, playing at Erinvale (Singles matchplay) beat Erinvale 3.5 – 2.5 and beat KDM 5-1.
Silver 3, playing at Erinvale (Singles matchplay) beat Clovelly 4-2 and beat Parow/Bellville 4.5 – 1.5.
Bronze 1, playing at Somerset West (4BBB matchplay) beat Clovelly 2-1.
Bronze 2, playing at Somerset West (4BBB matchplay) lost to Bellville 1-2.
Their next fixture is Tuesday, 25th February.
Practice makes perfect
Unlimited driving range balls are now available from the 1st of February. The cost is R2 400 for the year, so the pro rata fee for the remainder of 2020 will be R1 200. You will be issued with a laminated card, which includes your photo. You will then present this at the pro shop, get a slip and present that at the driving range for your balls. Kindly pop in and see Nic Lochner or Carmen personally if you would like to take up this offer.
4BBB Stableford it is
You may have noticed in Monday's newsletter that I stated that this Sunday's competition will be Individual Stableford. This was an error and Sunday will in fact be 4BBB Stableford. (Serves me right for using the original draft diary and not a finalised one!) Sorry to Nicci for giving her a heart attack. The day is sponsored by Food Lovers Market Tokai and of course, everyone is most welcome!
News from the course with Raymond
I recently had a very interesting conversation with one of our members. The discussion we had was around the utilisation and daily setup of the irrigation system. After the discussion it occurred to me that it would be a great idea to let everyone know exactly how the irrigation system works and how it is set up, so here goes:
At Westlake we currently have 1185 sprinklers and we have what is called a valve-in-head irrigation system, basically meaning that each sprinkler can be controlled individually and has its own unique run time.
We are very fortunate to have this system, as it allows us to be highly efficient and precise with our irrigation application. That being said, it's worth noting that the golf course is a big garden and there are lots and lots of sprinklers that need to be monitored and adjusted on a daily basis. My reason for stating this is that even though we are very accurate with our application of water, perfection is simply not attainable and you will always have a small percentage of areas that are either overly moist or overly dry.
In terms of daily setup, my assistant and I will do a drive-through each morning and make notes of which areas are too wet or too dry. Then, before I knock off for the day, I will adjust the individual run times on the irrigation computer, based on the notes made in the morning. I will also take note of the weather forecast for the next few days and will use this information when deciding how much water should be applied each evening.
Please see the image below, taken from the irrigation computer a while back. It should give you a better understanding of how the irrigation system is set up and edited on a daily basis (Please note, this image is only for demonstration purposes and does not reflect our current watering schedule).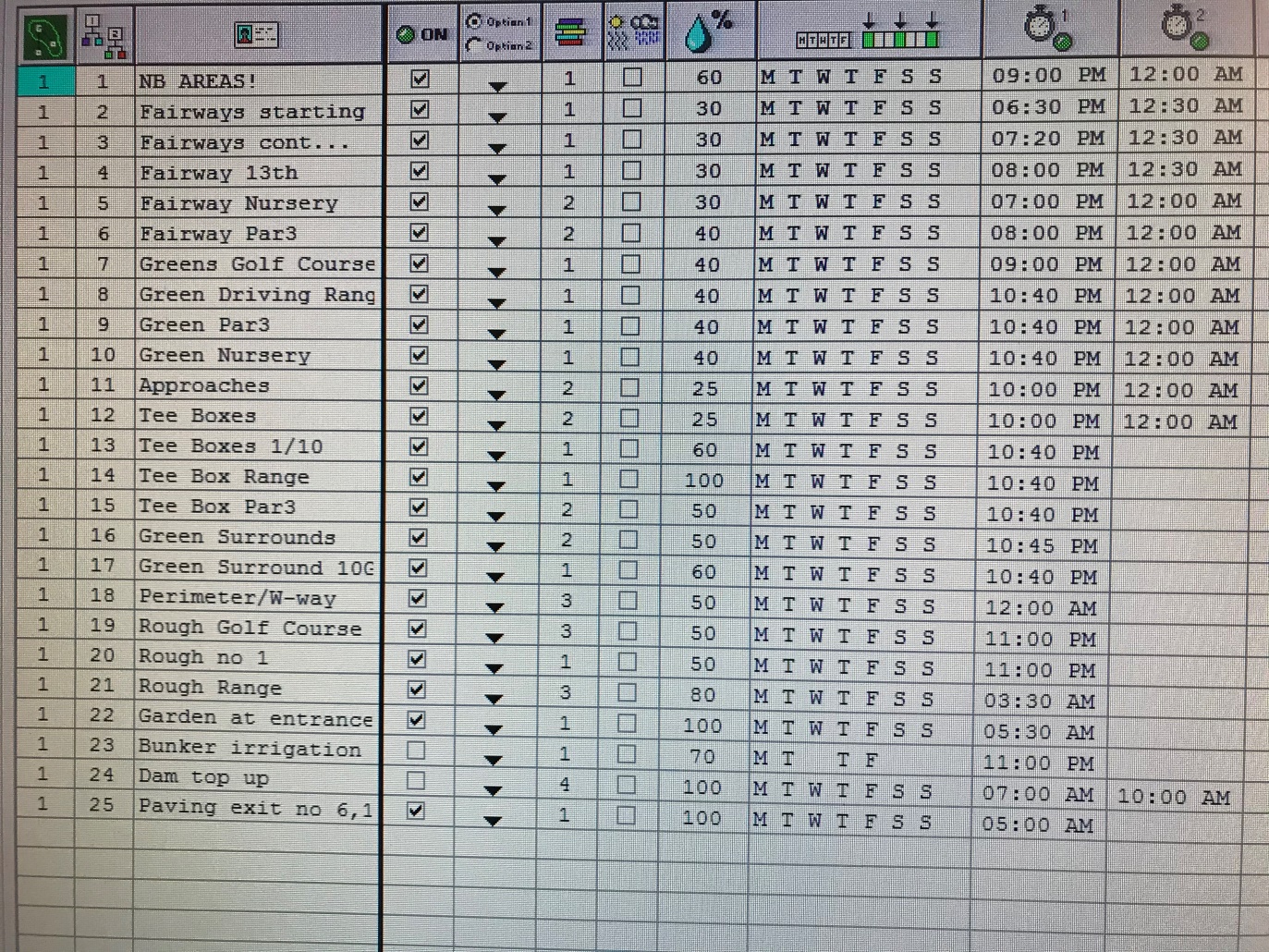 Have a fantastic week and see you all at the club.