Please note that you visit Westlake at your own risk.
Hello everyone
Let's start the newsletter with all the Covid-19 based information first. This information is valid at the time of writing and may change as the situation changes.
Westlake response to "National State of Disaster" declared by President Ramaphosa on 15 March 2020:
The drastic and unprecedented measures announced by the President this week are meant to slow down the outbreak of the Covid-19 virus in all communities. It is meant to "flatten the curve" so to speak. At this point in time, social behavioral change is undoubtedly the only "lever we can pull", to use the words of Adrian Gore.
Golf clubs must play a proactive and supporting role in this objective.
Golf
As a recreational sport, golf is one of the few activities where close and direct contact with your fellow players is not necessary. It is played outdoors and has built in "natural social distancing". Golf is therefore ideally suited to assist people to interact socially during these times, whilst at the same time, avoiding direct contact. Furthermore, golf courses provide a safe environment for people to possibly individually run and exercise in the outdoors and in doing so, avoid close or direct contact. (These options will be investigated going forward).
Our task as management will be to ensure that our facilities assist our members in softening the impact of the Covid-19 virus.
To make this contribution we will, within our resources, implement the following with immediate effect.
Arrival and security:
• Members must use their tags to enter and not touch the tag sensor. For visitors, security guards will scan the license disc from the outside of the window and verify the vehicles' number plate. Scanning of licenses will be done by the member/guest holding their license for the guard to scan, thereby eliminating any physical contact. Any written information will be done by the guard and not the person entering, so that no physical contact is required.
• Where necessary, we will deploy a ''welcoming marshal" at the front of the Club directing players to walk straight through to the pro shop and golf course. With all competitions, leagues and tournaments cancelled or postponed as of this morning, this will only happen where necessary with groups. Starters will remind everyone to use the "elbow shake" and to make use of the hand sanitizers provided.
• Everyone is reminded again not to shake hands or hug.
Golf course:
• Caddies carrying bags to stay outside a 5m radius of players and leave the bag next to the ball on the course and move aside. Only the player to handle his/her clubs. The same message will be conveyed to those visiting golfers who hire caddies.
• "Starter/Marshals", to keep their distance and remind people to keep a safe distance from each other. No "high five's", leave the flag in the hole whilst putting and consider not raking bunkers.
• All players using carts can chose not to share a cart should they wish. Subject to cart availability.
Clubhouse:
• Hand sanitizers will be provided at convenient places in the club.
• Only paper towels to be used for hand washing in locker rooms.
• We have altered the bar, patio and halfway house layouts by removing some furniture. This has created more space between tables. You may also move upstairs when you have your drinks, thereby eliminating close contact between yourself and others, should you so wish. Please note – There will be NO bar service upstairs.
• Serving personnel will be limited to the essential.
• There will still be no self-service at the bar or halfway-house, to avoid people touching anything unnecessarily.
• Serving personnel as well as kitchen personnel will wear gloves where applicable.
• Staff will hand wash every 30 minutes.
• There will be continuous de-sanitizing of the clubhouse throughout the day, particularly in high-touch areas.
• We encourage you not to use the locker-rooms unless absolutely necessary.
• We will however de-sanitize locker rooms every hour and showers after use.
• Unfortunately, prize-giving ceremonies on member days will be cancelled immediately until the situation improves. Simply put your completed card on the starter's table and we will handle the rest for you. You are welcome to have a drink and a bite to eat, but are then encouraged to head home, allowing players playing after you to do the same. Remember the maximum of 100 people in a single gathering at any time is not our aim, the less people are at risk the better, so use your good judgement. Enjoy your drinks with your 4 ball and then head home.
• Your prizes will be available at reception or transferred onto your card if applicable. The results will also appear in the weekly newsletter for your information.
• If at all possible, use your tags when entering the locker room. We cannot leave the doors unlocked due to security concerns.
Additional information regarding the bar:
• Member cards will no longer be handled by staff. Waitrons are not able to close your transaction. This will be handled by a dedicated person, who will finalise each transaction and the finalised receipt will accompany your drinks. Please check that the transaction is correct when you receive your round.
• Also please exercise patience as drinks may arrive a little slower than you are used to. Less staff means less risk for everyone. This is in line with all clubs nationwide. Please do not harass staff regarding this. Their safety is paramount. Thanks for your co-operation in this regard.
• We will have 1 dedicated glass/bottle collector who will ensure all empties are removed and put in the dishwasher immediately. There may be slight delays in clearing tables, but this ensures staff safety.
• Gloves or not. The effectiveness of gloves while serving drinks has been discussed and the general consensus is that gloves will simply transfer the virus, while hands that are regularly sanitised and washed are actually more hygienic.
Communication:
• The Committee are fully behind the Club's response.
• We will keep you updated with weekly news in the newsletter on any incidents and general news at the Club.
• The newsletter will also be printed and put on the notice board for your convenience.
This will no doubt be a trying time for the Club industry, dealing directly and regularly with the general public. There might well be financial losses to be absorbed by the club, but we will monitor this closely. This is a fluid situation and we will endeavour to change where required as we deal with the virus. Our regulatory body, CMASA, will keep the club updated with news and developments and will make recommendations as the situation unfolds.
Quarantine and Testing:
• If you are experiencing cold and/or flu-like symptoms, you are strongly advised to self-quarantine for 5-7 days and monitor your symptoms closely.
• If your symptoms get worse, contact your local GP, the ER closest to you or the COVID-19 hotline at 0800 029 999.
• If you have had contact with a person known to be infected with COVID-19, you must self-quarantine for 14 days.
• If you have not been in direct contact with a person infected with COVID-19, you do not need to self-quarantine, unless you start to develop symptoms.
• Anyone who has travelled internationally is strongly advised to self-quarantine for 14 days upon return. Should the person show any symptoms, the whole household should be quarantined.
• We recommend keeping a close eye on WHO, NICD and Provincial Health information. Media reports and social media reports may be inaccurate.
This is not a time to panic, but rather a time for action and vigilance. There is a strong indication that making simple and responsible adjustments to your daily lives can help curb the spread in our community and beyond.
Enjoy your golf and thank you for your co-operation with the measures we have put in place.
Investec S.A. Women's Open
The Investec S.A. Women's Open held last week was an unqualified success. We had large numbers of spectators with sizeable galleries on Saturday and the weather was superb. The organisers were thrilled and expressed their heartfelt gratitude to the staff, Committee and members for all their assistance in what was a fantastic tournament.
A huge thank you to each and every one of our 44 awesome "Westlakers", who so selflessly gave of their time to assist with the on-course logistics, doing duty as green side and walking scorers, radio controllers, leaderboard operators, on-course trouble-shooters, marshalls and crowd-controllers during the tournament.  Every single one of you also helped to make this prestigious tournament at our home club a great success once again.
From my own perspective, I must highlight the role that the staff played in the success of this week. They were superb, with nothing being too much trouble and this was highlighted on a number of occasions by the organisers. A special word of thanks to the Committee for their continued support too.
Many of you have asked about television coverage. The tournament has received outstanding Newsclip Media Monitoring figures. The SuperSport broadcast schedule for the tournament is as follows:
March Hare Trophy
Our only result from last week was the March Hare Trophy held on Sunday. It was a Betterball Stroke and entrants battled quite a wind! There was a social braai afterwards and it was a very enjoyable day.
• 1st John Rivett and Tessa Granger – 68
• 2nd Pam Mouries and Oliver Mouries – 70 c/in
• 3rd Alan Sloan and Anton Helmbold – 70 c/out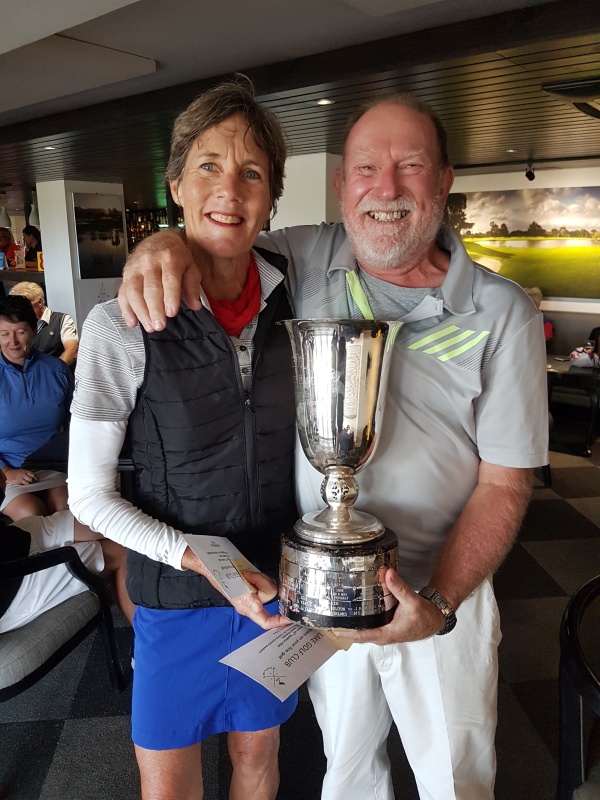 March Hare winners: Tessa Granger & John Rivett
Some important news is that the Committee have reinstated placing on the fairways with immediate effect. This will be 1 club length.
On the course side, we are repairing divots and sodding in Kikuyu in place of dead winter grass in vital areas. The 18th was the first area to be done this week.
We may well be issuing more regular newsletters if the situation warrants it, but that is all the news for now.
Bottom line, stay away from crowds, wash your hands often and enjoy the great outdoors. Have a great week.
David & the team