Hello everyone,
It has been a challenging week, with load shedding continuing to annoy and some challenges with water (which I will explain below), but overall it is lovely to see so many of you out there having fun!
The water situation
Let's start with water. We share an effluent water pipeline with Steenberg, with Westlake getting a third of all available water up to a certain cap. The Steenberg Farm seldom needs much water, so their consumption doesn't often affect us, but the past few weeks have been extremely hot and they are in a critical phase with their grapes needing water urgently just before harvest. As such, both Westlake and Steenberg Golf Course need to allow the farm their water allocation, which is built into the contract for such an emergency. Our supply is therefore limited for a week or so, in order to save the crop. That means limited watering of the course, with Raymond prioritising greens, tees, fairways and vital surrounds. This may mean some non-essential areas getting no water for a couple of days and the grass might go a bit brown. Rest assured, as soon as our full allocation is restored, Raymond will attend to this.
The power situation
Another area where we are acting pro-actively is with load shedding. Our new generator arrives this week to power the UPS's that are already installed on all our computers and servers. This will ensure the basic services at the club can run continuously, irrespective of load shedding. Bookings will also be unaffected and the generator will kick in seamlessly. By this time next week, everything should be fully operational.
Member news
The Swallows held their International Day on Monday morning. As usual, this was very well supported with Swallows from England, Ireland, Scotland, Wales, Sweden, Germany and other countries taking part. It was held in high spirits and I had the pleasure of addressing all competitors after the game. Our own Carmen was thanked for her efforts in arranging the day.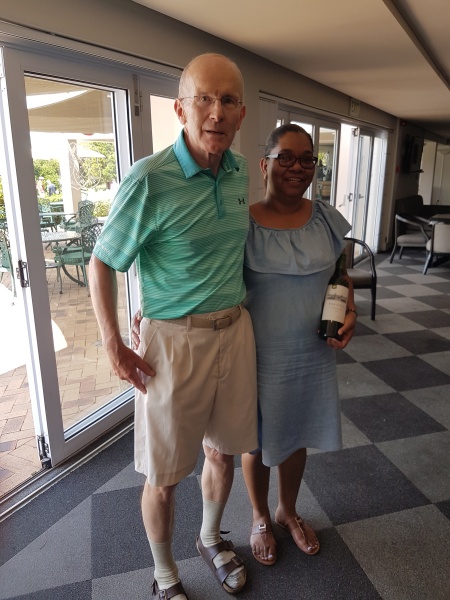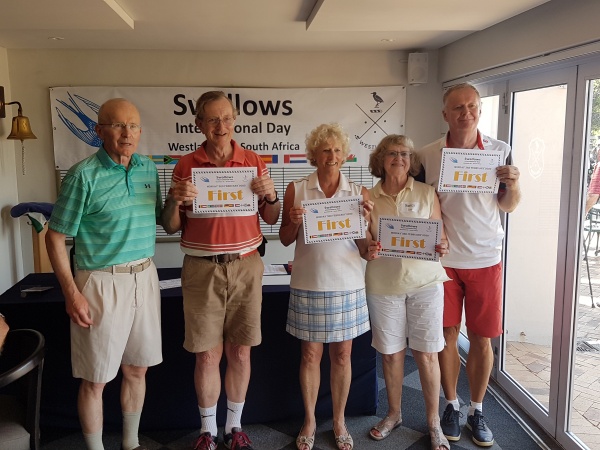 The winners played very well and are pictured here
A word of congratulations to Martin Hill. He is the winner of the Jack Black hamper that was up for grabs. Keep an eye open in the bar for more great promotions.
Some of you may remember that Mo Sulliman won the regional BMW Open round in Cape Town and went on represent Westlake at Sun City on the 29th and 30th January in the national finals. Mo won the B Division and now represents South Africa in the world finals being held at Fancourt from the 2nd to the 7th March.
Congratulations Mo and best of luck!
On Tuesday this week, the Westlake ladies participated in the International Day Ryder Cup format competition. The ladies were divided into two teams, South Africans and Internationals. The International ladies, captained by Morag Magnussen, led with bagpipe music followed by a tuneful rendering of the World in Union. The South African team, captained by Marilyn Franklin, dressed in the colours of the South African flag, gave a spirited rendering of their own composition to the tune of "Daar kom die Alibama".
The International team were the victors. Pictured below are the two teams as well the awarding of the trophy by our Lady President, Annamarie Usher.
Club news
To all members who regularly use Westlake carts, could we appeal to you to book your cart when you book your game please? There are some members who always use a cart, so staff do know you will usually take one, but with the big influx of visitors, demand for carts has increased and there are days where all our carts are booked and members may lose out. Kindly make the effort to avoid disappointment. The club doesn't want to assume you will always take a cart and then when you don't, we lose the visitor income for a cart rental. Thanks for your assistance with this.
A reminder to all that you always need to check in at the Pro Shop prior to your round, whether it be 9 or 18 holes. This is to open your round and pay the water and rand a round levies. Many thanks for your co-operation with this.
Security: It has become apparent that criminals are targeting golf clubs during load shedding, specifically locker rooms. Please ensure that you lock all your possessions in your lockers when leaving to play golf or in your vehicles when you attend prize giving. The sad reality is that it is not safe to just leave our belongings lying around and expect to find them when we return. We will be taking the step of ensuring that a staff member is present in the locker room during load shedding during golfing hours to add peace of mind. Obviously leaving valuables in plain sight in vehicles should also be avoided just in case. Let's be pro-active and fight this issue together.
Please note that in 4 Ball Alliances, and all Betterball competitions, you will have to use your allowance handicap from Wednesday, 5 February, onwards. That is 85% of your playing handicap. The sheet with these allowance calculations will be up in the Pro Shop, as well as on the notice boards from Wednesday.
Please note that Individual Stableford and Medal rounds are not affected.
This coming Sunday, the Sunday afternoon players will be holding an informal braai. Everyone is welcome and you can speak to Nicci Steyn for more details, but briefly, bring your own meat, sides and accessories and enjoy a relaxed afternoon after golf.
Have a fantastic week and see you all at the club.