The big day is almost here. This Friday is the next R10K Draw and it is going to be a very special evening. Live entertainment by one of South Africa's hottest up and coming musicians, Matt Carstens, who we were lucky enough to book between his busy tour dates and delicious food in the form of everyone's favourite – "build a shawarma". Everyone has their own favourite combination of ingredients! Come and build yours. The chance to win R10 000 and all the whisky and gin draws too. What a great way to spend a Friday evening! R100 per member all-in and R120 per visitor. Bring family and friends along for a great night out. Booking a table is always advisable and there are plenty booked, so contact Peter or Lindsay today to ensure yours. See you on Friday.
What's happened this week?
We have had consistent rain through the last week or so, but with sufficient gaps to allow most of the golf booked to be played. The course is looking fantastic and draining very well indeed.
The SF Waterson Trophy was played on Sunday. The winners were Jan Chrobok and Jane Waters on 69 nett. Well done to you both.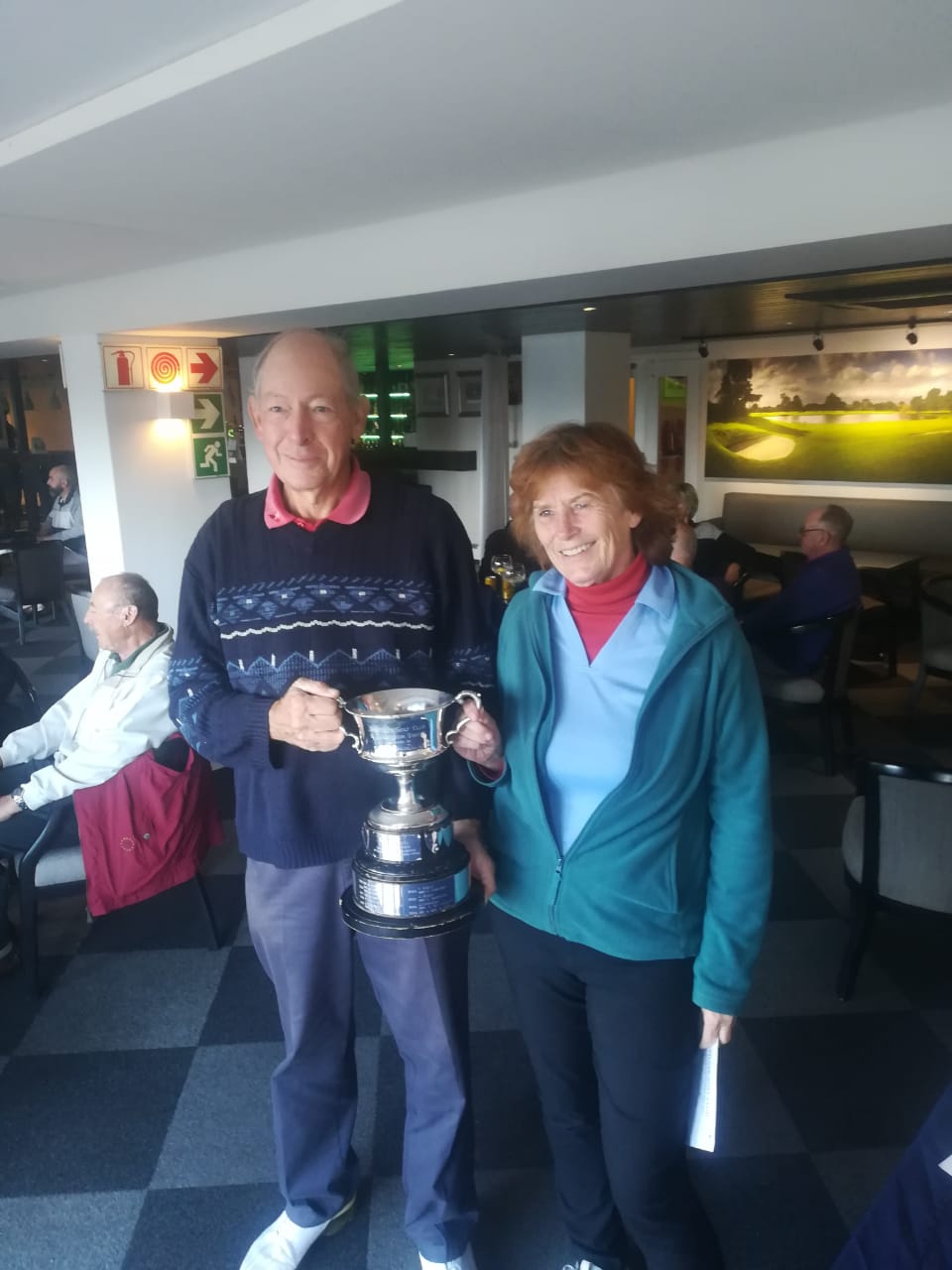 The Wags managed to complete their games on Tuesday and the winners were Neil Biggs, Brian Hogg, Mike Deacon and Derek Magnussen. Runners-up on the day were Tom McGuire, Ken Gass, Dan Nel and John Bromhall. Well played gents. Don't forget that if you are a gentleman over 55 and have time on a Tuesday morning, you are welcome to join this vibrant group of members.
The BMW ladies event was held this Tuesday. The competition was stiff and the eventual winner was Morag Magnusson on a very strong 37 points. She goes on to represent Westlake at the regional championships. Well played!
The Champion of Champions was played at Belville on Sunday and as usual, Westlake members featured prominently. In the Men's A Division (Medal), Elton James finished in a strong 3rd on 72. In the ladies C Division (Stableford), Tracey Gordon had a brilliant day, winning on 34 points. Julie Clifton also featured well coming home in 4th place on 18 points. Well done to all!
Western Province Golf proudly announced the team to represent the Union for the 2019 Interprovincial Tournament to take place at King David Mowbray Golf Club from 7 – 11 October 2019 this week. The team consists of 8 players and Westlake features 3 of our members in the team, namely Elton James (Captain), Shaun Le Roux and Wyers Janse van Rensburg. Congratulations gentlemen. That is quite an achievement and we are all very proud of you!
Golf RSA has been facilitating a series of two-day Level 2 Rules Seminars in order to educate everyone involved in golf administration about the latest changes to the Rules of Golf.
The next Seminar is scheduled to be held at King David Mowbray Golf Club in Cape Town in October 2019. The entry form is available here for anyone interested in attending.
Just a quick note to all our League teams in action this weekend. Good luck gentlemen. Have fun out there all the best of luck!
Take note
Festival – if you have booked for any of the Festival events later in the year, kindly confirm all the names in your 4ball with Emelia by 1 September, purely for planning purposes. She will invoice everyone later in September.
There are still some spots open, especially in the Ladies, Seniors and Greenkeeper's days. Feel free to enter your names for these too. We will be opening up open spots to visitors from the end of September.
Importantly, the Greenkeeper's Revenge will not feature any "silly" or "gimmicky" holes. There will be challenging pin placements certainly, but it promises to be a fun-filled day and everyone is invited to give it a try. The Senior Classic is also different this year, in that everyone is playing off the Red tees. This changes the golf course dramatically if you are used to the longer tees and is not as easy as one might think. There are still a few 4balls open, so anyone over 55 is invited to participate.
A reminder that National Golf Day is on Sunday 1st September. All golfers playing and participating on the day compete nationally and play against such luminaries as Gary Player and Ernie Els, amongst others. It is a great initiative and the idea is get as many golfers as possible out there at one time, so book your place on Spring Day and have some fun! More info next week.
When we installed our new ClubMaster software late last year. One feature that was missing was the Pre-paid golf cart vouchers being loaded onto members' names. You will be thrilled to hear that if you pre-pay for carts, this feature has now been activated. Please note: If you still have some printed vouchers that have not yet been redeemed, kindly bring them to the office and we will load them onto your name. This cannot be done in the Pro Shop and is only possible on weekdays 08h00 – 16h30 and Saturdays 08h00 – 13h00. The printed vouchers will no longer be useable in the Pro Shop, so don't forget to convert these.
Last week I mentioned the upgrade to the ladies downstairs toilet. The counter top is currently being finished off by Nick and the team and installation will begin from Thursday. The initial top looked like this when it was joined together.

It is amazing how a few wooden planks can turn into what will be a stunning finished product.
Lastly, I was privileged to play Pearl Valley over the long weekend. I won't comment on the standard of my golf or the lightning quick greens, but It was interesting to see the amount of divots and pitch marks on the course. Westlake is not the only course with this problem. I would like to appeal to every member to continue doing your part, as we are slowly getting on top of it. A big word of thanks to all those of you who diligently repair your own and also fill in others while you play.
Weekly golf tip from EOGA
With coach Murray Smit (from EOGA Erinvale)
I haven't met too many golfers who don't enjoy hitting a long and straight tee shot. In order to maximize distance we need golfers to create an efficient spin-loft.
Spin-loft is the difference between your angle of attack (whether the club is travelling up or down through impact) and your dynamic Loft (how much loft you present to the ball at impact).
To maximize distance with our tee shots, we want the driver to be travelling upward through the ball and we want to be reducing the dynamic loft, this creates a high launching and low spinning shot which goes a long way. Unfortunately, a large portion of the golfers we help on a day-to-day basis do the opposite. They hit down on the ball and present too much dynamic loft. This launches their tee shots too high and with far too much spin, ultimately they don't go very far.
If you are hitting high spinning tee shots that aren't going as far as you like, give the following three steps a try:

1) Set–up
We are looking for the ball to be teed up at least the height of a golf ball above the ground, the ball should be positioned just inside your left heel and your stance should be just wider than your shoulders; these will all encourage an upward attack angle.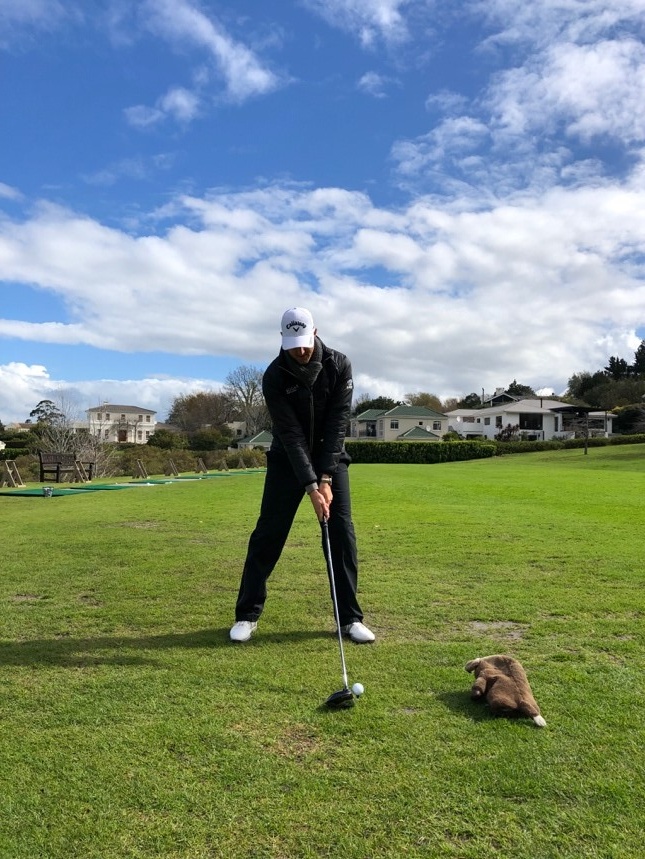 2) Downswing
We are looking to get the clubface pointing towards the ball by waist high; this encourages the face to be more closed at impact and ensures that the dynamic loft is reduced.
3) Impact
We want to feel that we are pushing up or extending through impact, this will encourage the upward attack angle.
(* Tip – throw a head cover down just in front of your ball to encourage the feeling)
Want to try this or any other drill out under Professional supervision?
Contact Alec at alec@eoga.co.za or
082 829 7094
Wine not?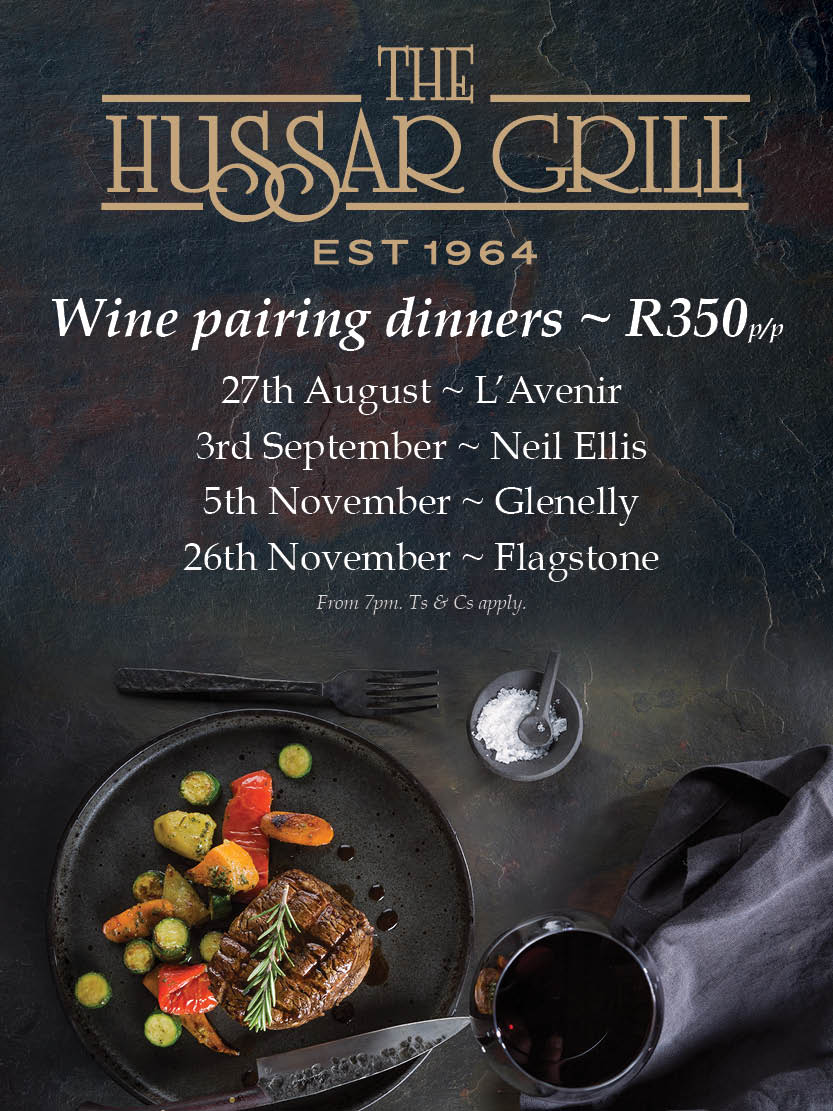 Have a superb week and see you all at the Club this weekend.