I know I am regularly proclaiming another busy week at the Club, but those all pale into insignificance when compared to this one. We started on Friday with the Big Draw and went straight into the Investec SA Ladies Open all week. I will deal with both as we go, but just a word of appreciation for the wonderful rain we experienced on Monday which has transformed the golf course. It is spectacular as I write this, with the Pro Am competitors currently teeing off on a beautiful Cape Town day. Being at this Club can really be magical – as we all know.
We have a lucky winner of the new Toyota Yaris
Let's start with Friday. Well over 200 excited people gathered in the downstairs bar in anticipation for the R10 000 up for grabs, as well as a chance to win a brand new facelifted Toyota Yaris. The atmosphere was electric as Kenneth from Market Toyota Tokai drew the winning ticket and handed it to Club Captain, Martin Peter.
Martin has clearly been practicing his gameshow procedure, as he slowly unfolded the ticket, read the name and paused for dramatic effect. Billy Domingo was the lucky winner. Hearty congratulations Billy! A word of thanks to everyone who contributed to the raffle. Despite the unpleasant weather and subsequent crowding inside, the idea to have a family atmosphere with the jumping castle and inviting families to join in was very well received.
Investec SA Ladies Open schedule
So on to the Investec SA Ladies Open. Qualifying Day on Monday was horrendous with huge downpours and gusting winds. The girls did manage to get their rounds in however, and the final draw was completed. Tuesday was practice day with mild weather and Wednesday is the Pro Am as mentioned above. Thursday is round 1, Friday, round 2 and Saturday sees the field cut to 50 players plus ties to see who the SA Open Champion will be for 2019.
Everyone is welcome to come and watch the golf. I did send out a separate mail informing everyone of the pertinent points, so please check that for any info you may need.
All members are welcome after the golf on Saturday as we will be having an informal party with food and music, so pop in from 10am, watch the golf and then let's all kick back and relax!
Sunday sets the stage for a nice day of golfing
Sunday is back to normal and as I look at the tee sheet, there are still nine full 4-Balls and some other spaces open, so if you would like to play the course as Raymond set it up for the tournament, book now.

A triumphant winner!
This past Sunday saw the playing of the March Hare Trophy. Well done to Olivier and Pamela Mouries who won the event.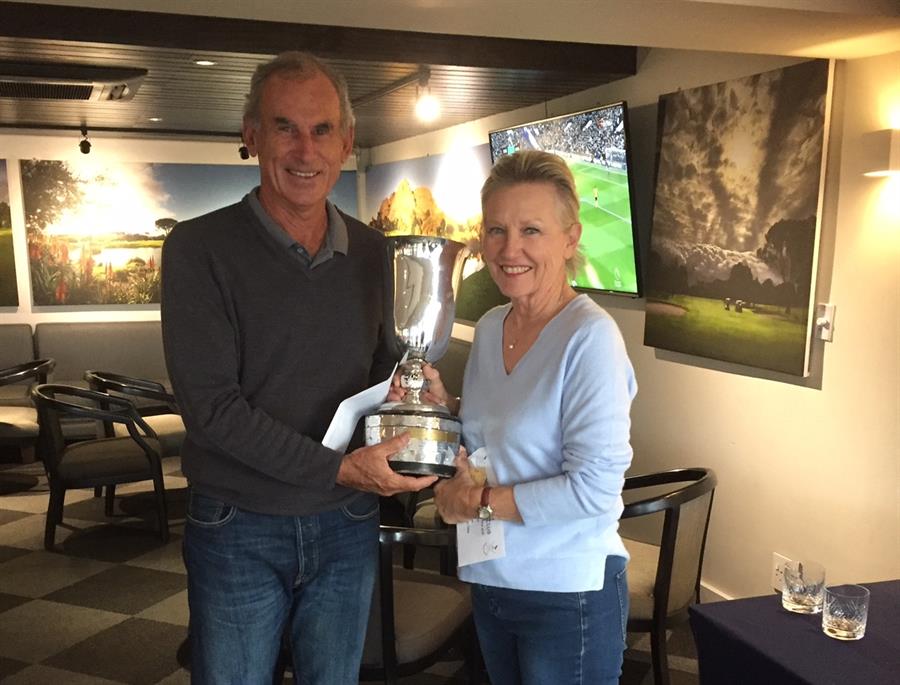 Phone a friend for our next Ladies Open
A reminder to all our ladies that the next Ladies Open day is on the 4th April and each 4-Ball needs a visitor. Get hold of your friends at other clubs and let's fill the field and show off our amazing Club.
Cost is R170 for members and R350 for guests. This includes great prizes and a meal after the game. For more information contact Ladies Captain Ursula.
Ladies League results
Speaking of the ladies, their League sides continue to blow away the opposition.
– Silver 1 beat Durbanville (last years' Silver winners): 3.5 – 2.5
– Playing at Somerset West, Silver 2 beat KD/Mowbray: 5 – 1
– Playing at Parow, Bronze 1 halved with Durbanville (who were last year's Bronze winners)
– Playing at Rondebosch, Bronze 2 beat Rondebosch: 2 – 1

Congratulations to all our players! The next league fixture is Tuesday, 16 April.
New rules relief cards can fit into your pockets!

The new rules relief cards have arrived and are on sale in the office for just R20. They are conveniently double-sided and fold 3 ways to fit into your back pocket. Everything you need to know is there in large, easily legible blocks with simple illustrations to further assist you. Pop down and have a look. We ordered an initial 50, but I have an idea we will need plenty more.
Speaking of cards, a big word of thanks to Giovanni Contaldi and Courier It for the sponsorship of our new score cards. They have just arrived and comply with the new rules. Please support this fantastic company if you need to make use of a courier.
Follow the procedure
The driving range procedure has not always been a model of clarity in the past. We have simplified this so that there is no risk of people not paying for balls or any temptation with regard to cash for our employees. Anyone wanting to make use of the driving range must first report to the Pro Shop, pay for their balls and then present the slip to the attendant at the range. If it is after hours, there will be buckets of balls in the Pro Shop available for you.
Look out for the other players around you
A reminder not to chip out of the bunkers onto the chipping green when there are players in the vicinity and to consider the safety of others at all times when making use of this facility.
Our 2019 Men's Club Champs are rounding the corner!
Men's Club Championships are now open for bookings. Your annual Men's Club Championships are on the 6th & 7th April and 13th & 14th April 2019. A big word of thanks to adidas (Tyrol & Damian), as well as TaylorMade (Aaron & Marc) for their continuous support and generous sponsorship. Entries are open and the cost is R320.
Should you want to bring your better half along to the prizegiving dinner this will be an additional R170.Please email Emelia on membership@westlakegolfclub.co.za to enter and please indicate your plus one. Entries close on the 25th of March 2019. Should you payment for your entry not have been received by the 26th March 2019 you will not be in the respective draws.
Make big circles around these dates
We have opened ALL our 2019 Festival event bookings. The following events are open for booking at the office:

Masters Par 3 Comp
Friday, the 12th of April 2019 along with the 10K draw. Cost for members are R240 and visitors R330.
Heritage Day
Tuesday, the 24th of September 2019. Golf in the morning, wine tasting at the Club and food stalls. Cost TBC.
Ladies Classic
Tuesday, the 1st of October 2019. Cost for members are R240 and visitors R330.
Night Golf
Friday, the 25th of October 2019. Cost for members are R290 and visitors R330.
Seniors Classic
Monday, the 18th of November 2019. Cost for members R200 and visitors R330.
Wednesday Classic
Wednesday, the 20th of November 2019. Cost for members R200 and visitors R330.
Greenkeepers Revenge
Friday, the 22nd of November 2019. Cost for members R200 and visitors R330.
Saturday Classic AM & PM Field
Saturday, the 23rd of November 2019. Cost for members R120 and visitors R330
BIG BASH bookings – Cost for the party is R250pp.

Have a great week and see you at the Club for the golf.
Dave and the amazing Westlake team.